About the Inn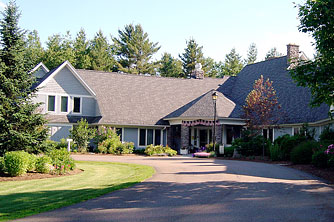 Relax. Quiet, secluded, and barely visible fifty feet above the Mountain Road. Surrounded by woods on 9.5 Stowe, VT acres feels like an island of calm. Here luxury is defined by both the thoughtfulness of our accommodations and opportunities for intimacy — intimacy of life and love. Yet, Stowe, its restaurants, and the best skiing in New England are less than 10 minutes away. This is the beginning of unexpected ways to celebrate life…together.
Praised by numerous publications and by our guests on Trip Advisor, Stone Hill Inn is a Stowe, VT bed and breakfast that combines a completeness and charm exceptional among inns and bed and breakfasts. Recently awarded the Traveler's Choice award by Trip Advisor, we are blessed to be rated 16th highest among over 21,000 U.S. inns and B&B's. (January 2012)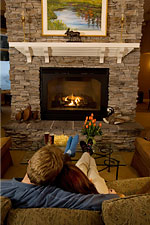 Here couples find walks in our woods, snowshoeing (often for the first time!), sunlit breakfasts, comfortable relaxation throughout the gardens, luxurious guestrooms, a welcoming Great Room and easy access to the elaborate culture of Stowe — for unexpected opportunities to celebrate life — renewal, adventure, and especially romance.
Stowe itself is a charming and sophisticated village featuring unique owner-operated shopping, unforgettable scenery, and countless opportunities for year-round outdoor fun. After a day of exploring, you'll look forward to returning to the Inn for an evening of hors d'oeuvres, followed by dinner at a nearby restaurant and a soak in your private Jacuzzi for two. This romantic getaway in Stowe, VT is one of life's celebrations; a gift we all deserve!