The Stone Hill Inn – soft, quite, undisturbed – has become a national leader among bed and breakfasts that specialize in serving the romantic and relaxing requirements of its guests. Stone Hill is one of a small number of bed and breakfasts in the U.S. that were built as a B&B from the beginning.  When starting from a plain piece of paper, you naturally have more opportunities to create an experience built around comfort, intimacy, and luxury. It's oversized baths with double Jacuzzis and fireplaces, for example, are evidence of its thoughtful planning.
As you might expect, this start-from-scratch formula has been reasonably successful. We've been blessed with wonderful guests who have helped us twice in the last four years to be recognized among the top 25 inns and bed and breakfasts in the United States by Trip Advisor, and last year we were among the first ever be inaugurated into Trip Advisor's Hall of Fame.
Given this record, don't you think it's time for a change?
What? Why mess with a good thing?  What's wrong with being known as one of the best romantic Vermont Bed and Breakfasts? Hey, George and Linda, this isn't like technology — an industry that revels in change.  What are you thinking!
Like our lodging brothers, we continually look for new ways to distinguish ourselves within the competitive environment of Stowe, Vermont. We must and do each year add new furniture, new rugs, new offerings at breakfast, fresh packages that enhance the overall guest experience.  It's continuous.
But that's not the kind of change we're talking about. The search for a change that will really make a significant difference; a difference that could attract a new group of customers – continues to haunt us.  Of course, we think that both the Stone Hill Inn and Stowe, Vermont are exceptional, so all we need to do is be just a little creative and we shall find the next big idea.  We think…has to be!…just around the corner!
You know what? It is!
Literally! We've got an Apartment!
You've been here before, yet you didn't know about the Apartment? Your not alone.  It's true. It's a one-bedroom apartment that sits above the garages – just around the corner from our 40-window dining room.
We'll tell you about its history some other time. The important message is that very soon we are going to make it available to everyone! It's over 700 square feet – about two-thirds larger than our luxury guest rooms. It has three separate rooms: Living/dining/kitchen; a bath; and a bedroom. It also has a washer and dryer and it has a small porch just off the living room.
How do you like the kitchen?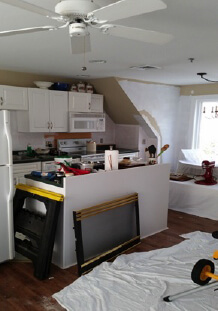 Yes it's under construction. We are in process of completely updating the Apartment. What you see is both what it was and some of what it will become. It's compact but fully functional – or it will be! It is a fully operational kitchen with Fridge, Stove with cook top, Dish Washer, Sink, and the island you see with things leaning against is horizontal space for food preparation and serving. In the window we've ordered table and chairs so you can enjoy the fruits of the kitchen while relaxing at the window. (The view is our field of wildflowers along with our road to the parking lot — so enjoy the wildflowers!!)
This is a new venture for us, so we're still thinking about the best way to make it available to you – our guests. Right now we have it priced a bit higher than the Corner rooms (West Branch and Fiddlehead), with a minimum two-night stay. We may go to a three-night minimum. We are also thinking that we will offer a 10% discount for stays of five days or longer. We're also considering including breakfast in the offering.
The Apartment will have its own separate entrance and it does not connect directly to the rest of the inn, so it will require a short walk (35 feet) to the front entrance of Stone Hill.  Apartment guests, we're thinking, will have complete access to the public areas of the inn and to all concierge services that we provide – dining, ticketed events, and help in planning your day!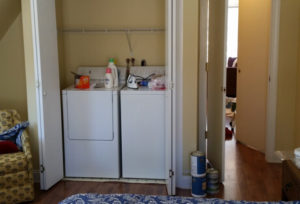 The Apartment has its own washer and dryer. This is the same type of washer/dryer that inn guests have access to in the "pillow library" closet within the Stone Hill Inn. We thought this would especially benefit international travelers and those who are on an extended journey throughout all of New England. When not in use, these hide behind the folded doors.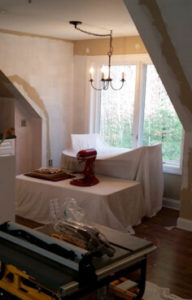 The Apartment is up and away from everyone else. It is its own kind of refuge.  Comfortable, quiet, and thanks to Linda, lovely. (We're still working on this – but I've seen some early touches – you won't be disappointed!)
We're thinking that it will be available for occupancy by early July.  Thus we shall become both B&B and Inn — a romantic Vermont Bed and Breakfast Inn!
The kitchen, of course, comes with all the necessary tools including basic condiments, coffee, dish washing soap, etc. Just next to the kitchen there will be a table and two chairs set in this window (above) for casual dining. The Apartment, like the rest of Stone Hill, will remain a secluded getaway designed for couples! Just to the right of the window and the dining table is the fireplace!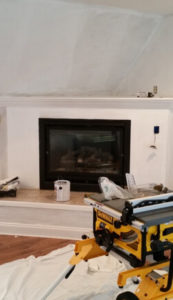 Hey, you know how to use one of these table saws, don't you? By now you realize that nothing has been completed as far as the overall renovation is concerned. All the walls have been primered but not painted. The floors are relatively new – we put those in about four years ago.
The fireplace has a timer (dangling in the picture) and like all other guest rooms at Stone Hill, it is a gas fireplace. The fireplace anchors the living room. So, the kitchen, dining area, fireplace and living room all flow together and a TV is visible from everywhere. The porch below is about seven feet to the right of the fireplace (furniture to arrive).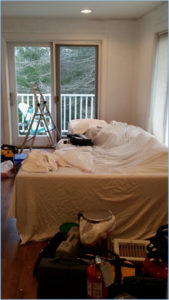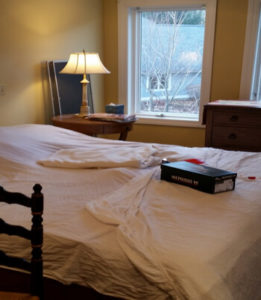 The bedroom is about the size of the living room and has three windows – beautiful morning light. All the furniture is new — a king bed, tables/lamps on both sides of the bed, and two separate pieces that contain drawers for your clothes. It also has a TV and a separate couch. It looks out upon the front of the inn.
The bath is a bit smaller than those in our guest rooms, but it has two sinks and a shower.
Aye. Whadaya think? Change is good???
For those that really need more than just a couple of days to reclaim who they are together and individually, but still want a charming, comfortable, private, romantic getaway in a secluded but convenient setting…the Apartment will soon be here!
Send us your thoughts on Facebook!