Visit Vermont to enjoy an extraordinary wilderness adventure experience – Dog Sledding – and unmatched hospitality at the Stone Hill Inn. People come from all over the world to Vermont to enjoy these beloved, NO CHAINED dogs and to experience real dog sledding in natural trail conditions.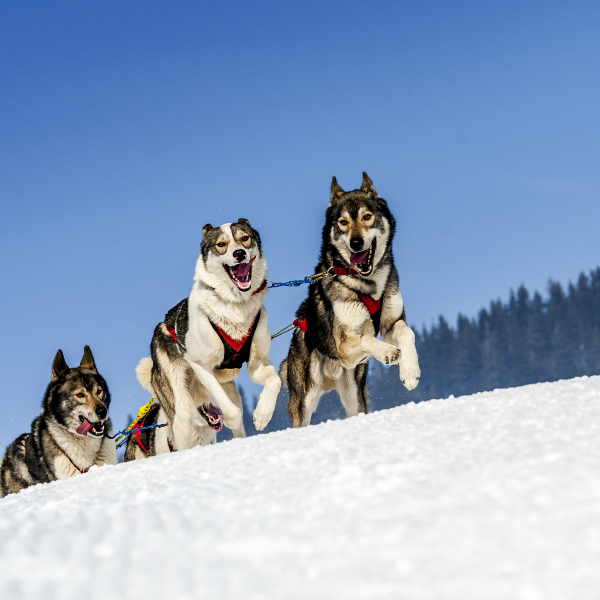 Our "Adventure and Romance Dog Sledding" Package:
2-hour Vermont Dog Sled Beta Tour
Stone Hill Inn Wine and Cheese Charcuterie
2-nights of luxury lodging and gourmet breakfasts
Add-On Cost: $1,175
(in addition to your minimum two-night stay)
This offer cannot be combined with other offers or with third-party gift certificates. No promo code is required.
What to expect: Beta Dog Sled Tour Details
Meet the dogs — The Unchained Gang — and learn why the idea of unchained dogs is so important, yet so unique to Jim and his operation.
Jim's 140-acre farm of beautiful hills and forest (that he grooms daily) is set in 10,000 acres of Northern Vermont beauty. His trail system was specifically built just for dogs and is the only one like it in North America. Come and experience real dog sledding in real trail conditions! The Beta Tour is an abbreviated version of the Alpha Tour that allows you to meet and experience the highly socialized UN-Chained Gang and their incredible pack dynamics! 45 minutes of dog interaction which includes harnessing and hitching your team and then a magical, spirited 40-minute sled ride on Eden Dog's 5-star trail system.
Approximately 2 hours of total time.
Standard sled capacity: 350 lb combined passenger weight
Tours run daily: 10:00am; 1:00pm; 3:00pm.
Book Now
Or Call (802) 253-6282 to add to your reservation!
Requirements and Notes: Please call ahead several days to schedule.  A credit card (Visa or MasterCard) is due upon booking a tour (If a tour is not canceled within 24 hours, then 50% of that tour price will be charged to the card.) Tours run in all types of weather! In bad weather, guests may need vehicles with 4- wheel drive. This tour company is not responsible if guests cannot arrive due to not having a 4-wheel drive. In the event of extreme weather, we reserve the right to alter your tour for your comfort.

We will most certainly return to this little slice of heaven!!! Todd & Kristie are a pure delight, and helped so much in our planning my birthday getaway to Stowe! The Inn is welcoming, warm, and beautiful, the breakfasts were amazing, the location is perfect. We went dog sledding and took a beautiful horse-drawn sleigh ride. Checked out skiing so close to the Inn, and had romantic dinners out, at restaurants Kristie & Todd highly recommended-they were outstanding. A special shout out to Tony, who also helped to make our stay memorable and wonderful.
TripAdvisor Review, Pennsylvania