Stowe.  A celebrated, Vermont community accustomed to hosting special occasions.  Spend five days with us, not just being married but pampered by the undisturbed comfort of the Stone Hill Inn while immersed in the splendor of unspoiled Vermont.  Each day a new experience — a new celebration of life…together. (We'll handle the details.)
Our Unforgettable Vermont Elopement Package includes:
Relax for five evenings in an available room of your choice at Stone Hill. Bedrooms have a King bed and fireplace; baths are equipped with a double Jacuzzi, fireplace, two sinks and a shower.
Choose among many venues at Stone Hill for your ceremony. Most love our gardens or waterfall venues in sunny weather. The picture window looking out on the gardens is a favorite when the weather is a bit feisty.
We ask that your service take place between 12:00 and 2:00pm.
We shall provide an experienced Justice of the Peace who will discuss your specific desires and ceremony details well before your actual service date.
Be greeted by a dozen roses and chocolates upon your arrival at Stone Hill Inn.
On your wedding day the Stone Hill Inn florist provides a bride's bouquet and groom's boutonniere which can be tailored to your preferences.
Celebrate with a personalized single-layer wedding cake and a special table that will be decorated and set for "cutting the cake" moments after your wedding.
A professional photographer will attend, capture your ceremony, and your celebration together in various locales amidst the beauty of Vermont. This will take about an hour and will also result in a DVD for you to keep forever.
Be expertly served during your wedding celebration dinner by the folks at Michael's on the Hill! (This is a certificate for up to $120.00, gratuities not included.)
Upon returning home from your dinner at Michael's our signature, candle-lit, rose petal, bedroom turn-down will welcome your first night as a married couple.
Enjoy an escorted, two-mile, morning's ride in canoe or kayak to the Boyden winery for a tour and tasting.
A 90-minute tandem relaxation massage awaits you here at the inn.
A local expert will take you into the mountains for two hours so you can experience vistas that visitors never see.(Or you can visit a Vermont craft shop — chocolate — and actually learn to make chocolate together — with chocolate all over your fingers — for an hour!)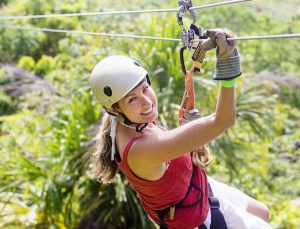 No visit to Vermont's stunning forests would be complete without zipping among its canopies. Yes. Ziplining for two hours at a nationally recognized course is just 20 minutes away.
We shall provide you with two Stone Hill Inn commemorative wine glasses as you leave the Stone Hill Inn.
Unforgettable Vermont Elopement Package starting cost: $4,185
Use online PROMOCODE: UNFORGETTABLE
Email or call us at (802) 253-6282 to book this package and start planning your Vermont wedding.  We would be happy to provide reliable references for florists, additional events and dining recommendations for your stay.
---
Accommodating Guests for Your Ceremony
We try to limit guests to around six individuals. Our actual wedding space is limited; however, we are aware that there can be occasions when you would like to have more than six guests. We would welcome the opportunity to discuss these situations with you, recognizing that we are naturally constrained in our ability to meet everyone's wishes. Please call well in advance so we can do our best to accommodate your needs. 802-253-6282.