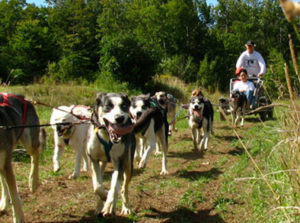 In the Summer? Yes, on wheels!  Wonderful scenery on trails that are groomed daily. The magic of this event, as it is for the winter version, is the dogs who are very friendly and can't wait to meet you!  You will meet each one by name and help hitch them to the "sled."  The actual ride varies between 20 and 30 minutes depending upon the temperature and humidity.
Tours leave at 10:00 am
Total time at Eden Mills will be 1.5 hours
The maximum combined weight is 350 pounds.
Cost: $595 per couple, plus accommodations and taxes.
Cancellations require 72-hour notice. 
---