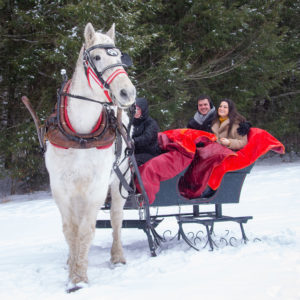 There is nothing quite as romantic Stowe, Vermont sleigh rides through the gorgeous winter landscape.
The perfect setting for marriage proposals! — Available December through March assuming plenty of snow.
As featured by Yankee Magazine, Boca Raton Magazine, Boston Common Magazine and Good Morning America!
Cost: $85 per couple / Holidays $95. Cancellations require a 24 hour notice for refunds.
Call (802) 253-6282 to book!

Thank you so much for making it happen!!! A highlight of our trip for sure. — Beany from New Jersey, Facebook