Experience an almost forgotten part of America: Dog Sledding!
Meet the dogs — The Unchained Gang — and learn why the idea of unchained dogs is so important, yet so unique to Jim and his operation.  Jim owns 140 acres of beautiful hills and forest that he grooms daily.  You will help hitch the dogs, get to know them, and be surprised about how much they love to run. Jim will be your guide and Musher in this part of Vermont that gets much more snow than Stowe.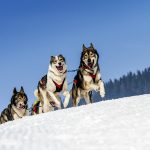 Omega Tour Details
During this tour, you'll experience the dog pack-dynamics unique to Eden Dog's ethical dogsled operation and learn about the world of dogsledding.  An hour of dog time includes harnessing your team and hitching them to the sled.  Participate and witness the adventure and romance of wilderness dogsledding with a magical and spirited 45 + minute sled ride experience through the backcountry of Vermont on their custom designed, hand cut and maintained trail system.
$495 (plus taxes).  Approximately 2 – 2.5 hours total time. 
Standard sled capacity: 350lb combined passenger weight
Tours run daily: 10:30am; 12:30pm; 3:00pm.
Book Now
Or Call (802) 253-6282 to add to your reservation!
Requirements and Notes:  Please call ahead several days to schedule.  A credit card (Visa or MasterCard) is due upon booking a tour (If a tour is not cancelled within 24 hours, then 50% of that tour price will be charged to the card.)
Tours run in all types of weather! In bad weather, guests may need vehicles with 4- wheel drive. This tour company is not responsible if guests cannot arrive due to not having 4-wheel drive.  In the event of extreme weather, we reserve the right to alter your tour for your comfort.