Looking to add extra experience to your elopement?  Choose from any of these memory-making Adventure Enhancements to make your elopement completely unique and unforgettable! Call us at (802-253-6282) for reservations and availability.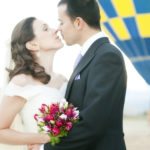 Hot Air Balloon Ride
Jeff is the captain of your ship and he will make sure you enjoy every moment of this 45 minute ride hot air balloon ride over beautiful Stowe, Vermont then celebrates your landing with champagne!
Weather permitting; this can take place even during the winter. Cancellations require four-day advance notice.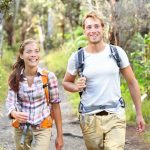 Guided Hiking
From a gentle stroll along Ranch Brook in the historic Ranch Valley to the top of Vermont's highest peak via the legendary Long Trail. Enjoy backcountry trails and vistas that most tourists never see. Greg Speer and his guides have excellent local knowledge of the terrain, current conditions, Stowe history, and even a few legends.
Easy to Moderate hikes lasting 1 to 2 + hours
Moderate to Difficult ½ Day Hikes lasting 4 + hours:
Hikes may include no more than six other individuals. Cancellations require 48-hour notice.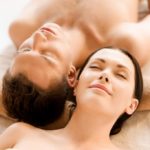 Tandem Massages at the Stone Hill Inn
Under the expert care of our massage therapists,  spend 60 minutes letting them untangle the connections with your body after completing one or more of our Adventures.  Relax those muscles and send your anxiety meter down into the single digits!
Gratuities not included. Cancellations require 48-hour notice.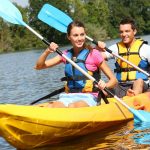 River Kayaking, Canoeing, and Tubing
Kayak, canoe, or tube together on the lovely and quiet Lamoille river (no experience needed – a casual and scenic, two-hour float trip) or Lamoille River.
Book directory with Umiak Outdoor Outfitters or Vermont Canoe and Kayak (there's even a tour featuring ice cream!)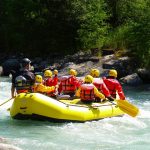 Guided Upper Gorge River Challenge
Between the scenery and the exercise, this is a trip will create many wonderful memories!  Prior river paddling experience is strongly recommended.  You will encounter Class I and II white water.  The trip is a six-mile, intermediate paddle down the Winooski River – a wooded section of the Winooski River that passes some magnificent rock formations through a breathtaking rock gorge.  You will be led by an ACA Certified Guide.
Leave on the water at 10:00 from the Waterbury put-in.
The trip is running between mid-June – Labor day.
Only available Sundays through Wednesdays.
Includes all equipment. Cancellations require 72-hour notice.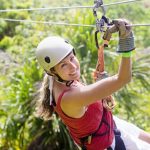 Ziplining
Soar through the Vermont forests as you ride up to 4,500 feet of zip lines, cross sky bridges, and rappel from trees.  The Zipline canopy tour provides access to reaches of the forest canopy and views of the area not otherwise available to hikers and explorers.  This fully guided adventure includes eight zipline excursions, two bridges, and two rappels.  Outside magazine rates this "One of the best wilderness Zip Line Tours in the U.S."
Plan on between 2.5 to 3 hours
Advanced registration is required. Age, weight, height, medical restrictions, and physical requirements apply to all tours.
Light to moderate exertion is required; must be able to act independently
Cancellations require 48-hour notice.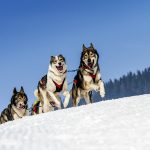 Dog Sledding
In the Summer?  Yes, on wheels!  Wonderful scenery on trails that are groomed daily.  The magic of this event, as it is for the winter version, is the dogs who are very friendly and can't wait to meet you!  You will meet each one by name and help hitch them to the sled.  The actual ride varies between 20 and 30 minutes depending upon the temperature and humidity.
Tours leave at 9:30 or 10:00 am
Total time at Eden Mills will be 1.5 hours
The maximum combined weight is 350 pounds.
Cancellations require 72-hour notice.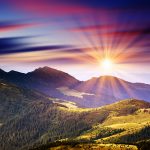 Guided Trail Running
Trail running is the perfect exercise for the mind and body. Whether you're new to running or a seasoned competitive racer, trail running will build strength, endurance, core muscles for balance and alleviate stress.
Guides will lead you on a 7:00 am Saturday morning trail run along the beautiful Ranch Brook in the historic Ranch Valley, the birthplace of skiing in Stowe on Saturday mornings. With moderate hills, you'll run from three to five miles in the Mt. Mansfield State Forest.  When you're done, head home and shower.  You can still make breakfast!
Just the two of you with the guide
Cancellations require 48-hour notice.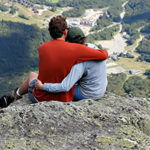 Hiking and Biking
If Hiking or Biking, we have information, maps, and suggestions for those looking for easy, medium, or more challenging activities.  If you are bringing your own bikes we can offer security in one of our four garages.  If you need to rent bikes our relationship with a local supplier will provide you with a 20% discount.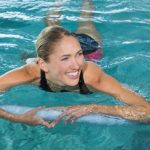 Swimming
When summer is at its best, there are many natural rock and waterfall formations that will provide welcomed relief from Vermont's version of a hot day – 89 degrees.  Personally, we prefer The Swimming Hole; a beautiful, new facility here in Stowe, a mile away from Stone Hill. The Swimming Hole has a full-length pool including a lap pool, weight training areas, and group fitness classes in Spinning, Kranking, Yoga, and Pilates. A day at the "Hole" is usually around $20; some classes may be extra.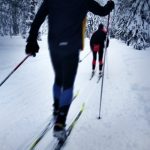 Backcountry Skiing
Stowe offers miles of high and low-elevation backcountry ski touring.  Explore the scenic Sky Top Ridge – test your telemark on the Steeple, the Bruce, Tear Drop, Underhill trail.  Your mountain guides will show you the real reason why people call Stowe The Ski Capital of The East! Tours last between 3 and 6 hours.
Pre-req: must be an advanced intermediate level skier in good condition. A 20% equipment rental discount at AJ's is available if needed. Trail fees may apply. Cancellations require 48-hour notice.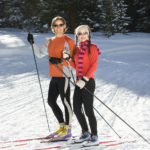 Introductory Nordic Ski Tour
Spend 3.5 hours learning about the basics of Backcountry Nordic skiing as you immerse yourself into Vermont's unspoiled country with its amazing views.  Tours take place on Saturdays either from 9:00 am – 12:30 pm or 1:00 pm – 3:30 pm.
Includes outfitting on cross-country skis.  Cancellations require 24-hour notice. We work with Umiak outfitters.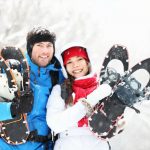 Backcountry Snowshoe Adventure
Are you looking to get away from it all — a little peace and tranquility?  Discover an undiscovered part of Stowe, well off the established trail. Taking off from our headquarters at the foot of Mt. Mansfield, you will cover Notch Brook which meets the Green Mountain State Forest, and two permanently preserved Stowe Land Trust properties. Three hours maximum.
Includes equipment. The difficulty is moderate to difficult over a three-hour morning or afternoon. Cancellations require 48-hour notice.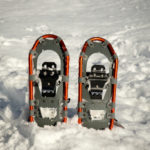 Snowshoeing for Everyone
No matter what the weather or conditions, snowshoeing is a winter activity that can be enjoyed by all. Follow the Mill Trail past the old Turner Mill blacksmith shop and Dr. Marguerite Lichtenthaeler's historic cabin to the majestic Bingham Falls Gorge. Or explore the historic Ranch Valley and Ranch Brook at the foot of Mt. Mansfield, the birthplace of skiing in Stowe.
Includes equipment. Difficulty: Easy to moderate over 1.5 to 2 hours. Cancellations require 48-hour notice.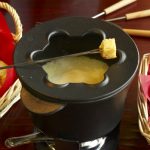 Snowshoe for Food! 
Work up an appetite with an hour-long long guided snowshoeing, learning about Vermont as you travel through the local woods.  Emerge at the Golden Eagle Resort to find a delicious fondue dinner using Cabot cheese and Laughing Moon chocolate fondues! We work with Umiak Outfitters.
Saturdays and Thursdays only from 5:30 pm to 9:00 pm (includes dinner).  Cancellations require 24-hour notice.
Email or call us at (802) 253-6282 to start planning your unforgettable Vermont elopement today!