There is an exceptional variety of things to do in Stowe, VT for year round fun. Plan your next vacation in Vermont at Stone Hill Inn and find unexpected opportunities to celebrate life… together. Be sure to check our lodging specials and packages.
Winter Activities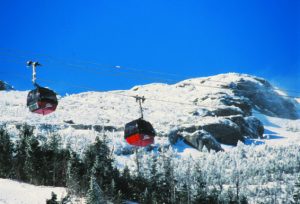 Alpine Skiing! While originally chartered in 1763, Stowe's reputation as the best skiing in New England began with its first ski trail in 1933-34 built by the Civilian Conservation Corps. Lift serviced skiing at present-day Stowe started when Sepp Ruschp and the Mt. Mansfield Ski Club opened a rope tow on the Toll House slope on February 2, 1937. Today at Stowe Mountain:
Epic Pass
Miles of skiing: 40
Trails: 116
Total lifts: 13 (more mile-long lifts than anywhere in New England)
Hourly lift capacity: 15,516 passengers
Snowmaking coverage: 80%
Average annual snowfall: 333 inches.
Save 20% on Epic Mountain Rentals for skiing and riding (skis and snowboards) using our link or scan the barcode on this coupon for an in-store discount.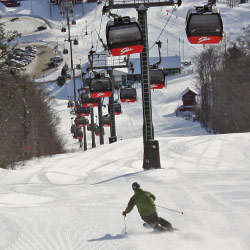 Nordic Skiing! When combined with over 3000 acres of conserved land, Stowe boasts one of the largest, most diverse trail systems in the United States – all levels of difficulty. Nordic areas:
Trapp Family Lodge (two miles away)
Stowe Mountain Resort (four miles away)
The recreation path (across the street)
Weissner woods (less than a mile away)
The 300-mile Catamount Trail (less than a mile away – well, not all 300 miles of it!!)
Snowshoeing! Snowshoe at any of the cross country ski locations. We also have free snowshoes at the inn. If you prefer a moonlight cabin trek, a fondue dinner trek, or a Ben & Jerry's trek, we can set these up with Umiak, our local provider!
The Swimming Hole Indoor Pool. (A mile away – 802-253-9229)
Air
Arbortrek –Canopy Adventures – Ziplining even in the winter.
Gondola. When the Stowe ski resort is open, the gondola is also open!
Land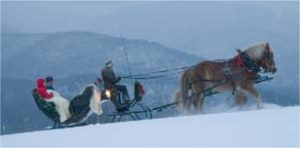 Sleigh rides! Yes! Horse-drawn -- Just for two – blankets provided to keep you warm. Rides are about 30 minutes. We recommend starting just as the sun is setting so you see the loveliness of the surroundings but finish in the dark. We can make reservations for you.
Dogsledding! The scenery is even more lovely in the snow than in the summer! Rides are longer since the dogs don't overheat as easily. We'll call for reservations for you.
Snowmobiling! Choose one sled or two. Guides will take you out and bring you back. Views are…. well, they create camera frenzy!
Ice Skating! The Jackson Arena is located in the heart of the village; from early November through late March. Skate rentals and public skating daily, however, open-air sides dress warmly on cold days. Waterbury also has ice skating at the Ice Center of Washington West
Sugaring! March is the official beginning of the sugaring season (i.e., maple syrup), however, you can always travel to any of the local sites to see how the process works, learn about the grades of syrup, and of course, taste a variety of samples and by-products!
Spruce Peak Performing Arts Center! As members, we can help you get tickets.
Teddy Bears! A cozy addition to a cold day – visit the Vermont Teddy Bear factory; Shelburne, VT. 800-829-BEAR (2327).
Water Activities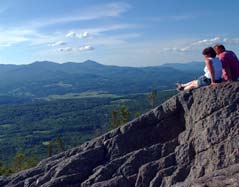 Umiak Outdoor Outfitters
Local outfitter for canoe, kayak, and stand-up paddleboards on the various rivers and reservoirs in the Stowe area. Also, rent various watercraft along with attachments for your car. They have three water tours: fishing, spirits, and ice cream. See us for the details and reservations.
Vermont Canoe and Kayak
This local outfitter provides guided tours and rentals, even combo tours with ebikes, hiking and icecream floats!
The Swimming Hole Indoor Pool
Only a mile away.  (802) 253-9229
Waterbury Reservoir
860 acres and is just south of Stowe
Green River Reservoir
635-acres and is a beautiful water body that is north of Stowe.
Lakes & Beaches
In addition to five local lakes there are public beaches at Lake Eden, Lake Elmore and Caspian Lake.
Air
Above Reality - Hot Air Balloon Rides
On the Views of New England flight discover all the spectacular sights that Vermont has to offer. On a "typical flight" drift over the rolling foothills of the Green Mountains with the sparkling shores of Lake Champlain and the majestic Adirondacks in view to the west. Finish with champagne, mimosas, sparkling cider, Cabot cheese, and Vermont made fudge.
Arbortrek - Canopy Adventures
A typical Zipline tour is comprised of a series of zip lines and aerial walkways that traverse from tree to tree, ground to tree or tree to ground depending on the local
Gondola
The Gondola usually runs between late June and mid October during the summer/fall.  It takes you to the Cliff House where you can enjoy lunch, beverages, and quite a view!
Land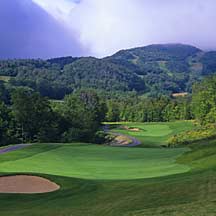 If you are Hiking or Biking, we have information, maps, and suggestions for those looking for easy, medium, or more challenging activities.  If you are bringing your own bikes we can offer security in one of our four garages.  If you need to rent bikes our relationship with a local supplier will provide you with a 20% discount. In addition, we have three adult mountain bikes available for guest use.
Green Mountain Club
Hiking at all ranges of difficulty. The GMC is the expert on all hikes and materials for safely navigating throughout the greater Stowe area. They have excellent weather information as well. 802.244.7037
Mountain Biking
Stowe was recently awarded the Best Mountain Biking Locale by readers of Vermont's own Times-Argus for 2012.  Stowe has 103 miles of road-29 blacktop miles; 74 miles are un-paved but relatively easy mountain biking. The Cady Hill Forest has three loops for Intermediate-Advanced Riding ranging from 45 minutes to 2.5 hours.  Trail Maps are available for purchase at local bike shops, the Stowe Visitor's Center or http://www.gostowe.com/thingstodo/sports/biking/trails.
Golf (Of all the fantastic things to do in Stowe, VT, this is our favorite!)
Stowe Country Club; a mile away.  Rolling hills with mountain views.  6200 from the tips; slope 117. Pricing drops after 12:00pm.
Carriage Rides
Enjoy a ride in our lovely new romantic sleigh for couples. We will begin our journey through a covered bridge along an open brook on a winding wooded trail in the woods. Sleighs are all beautifully lit with enchanting lights for our early evening rides.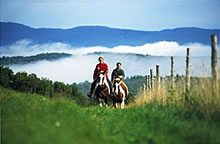 Horseback Riding

TopNotch Equestrian Center.  Individuals and couples with guides explore the 120 acres of the resort.  1.5 miles away.  802-253-6497
Dogsledding in the summer?
Yes!  On wheels.  Fabulous scenery and a fun ride but the magic of this event is the dogs.  "Must love dogs." Spend an hour or more with them – playing and harnessing them (they LOVE to run!).  Both are wonderfully memorable experiences!!  We'll make reservations for you.
Swimming
When summer is at its best, there are a many natural rock and waterfall formations that will provide welcomed relief from Vermont's version of a hot day – 89 degrees.  Personally, we prefer The Swimming Hole; a beautiful, new facility here in Stowe, a mile away from Stone Hill.  The Swimming Hole has a full length pool including lap pool, weight training areas, and group fitness classes in Spinning, Kranking, Yoga, and Pilates.    A day at the "Hole" is usually around $20; some classes may be extra.
We look forward to your visit to our romantic Stowe bed and breakfast.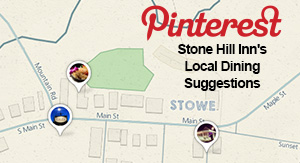 Enjoy incredible restaurants during your visit to Vermont
During your stay, let us help you taste the local cuisine. Explore a few of our favorite local restaurants in our Stowe, Vermont local dining Pinterest board map.
---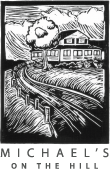 Lovely setting on the hill. Friendly service and a sophisticated menu with European flair. Chef owned and Vermont Restaurateur of the Year for 2012. Menu changes seasonally with emphasis upon local (strong farm-to-table presence) and seasonal ingredients. Michael's (owner and chef) tasting menus and wine pairings are also available. Tables on the enclosed "porch" offer views of the sun setting over the mountains. Smart/casual. Reservations recommended. Closed Tuesdays. Worth the 15 minute drive. 802-244-7476
Excellent casual dining that is now under the ownership and direction of Michael Kloti, owner of Michael's on the Hill.  In the summer they have an attractive dining patio with lots of space and good food.  Located within a mile of Stone Hill and next door to Piecasso.  Commitment to quality food mirrors Michael's on the Hill, as expected.  New challenger to Flannel for best crab cakes in Stowe.  Dress is typical Stowe -- very casual/comfortable.  Reservations accepted.
Celebrated Chef/Owner Eric Warnstedt by Food & Wine magazine, serves creative American fare with emphasis on local/organic ingredients.  Good wine list.  Upscale rustic - former grist mill -- river and waterfall run next to the the restaurant. Make reservations two weeks in advance.  Smart/casual.  Closed on Sundays & Mondays.  802-244 7300 - located in Waterbury a 20 minute drive.
American fare done very well in an innovative fashion with excellent consistency.  Focus upon seafood, steaks, and pastas.   Casual and comfortable.  Often rated #1 in Stowe by Trip Advisor .  Kathy and son, Andrew, own  and run Harrisons.  Do a wonderful job.  Reservations accepted.  802-253-7773
Pizza, pasta, salads, Paninis and subs in a very casual contemporary setting.  Recommend you create your own pizza from their list of additions.  We like a half-dozen extras -- all vegetables.  Excellent!  Salads are very good -- we often add a fillet of Salmon or Chicken.  Eat in, take out, or delivery.  Just one mile away   No reservations accepted.  Often Serve until 11 pm.  802-253-441
The menu centers around fresh, hand made, flavorful food - soups, entrees, breads, salads and desserts with a full bar featuring fresh pressed cocktails, local beers and thoughtfully selected wines. Fireside lounge and dining, beautiful Vermont country mountain views.  Consistently rated as excellent by our guests -- a good match vs. Harrisons.  Often rated either #1 or #2 by Trip Advisor for Stowe.  Only 2 miles from Stone Hill.  Linda and Mark own and run the Bistro and also do a wonderful job.  Closed Monday & Tuesday.  Reservations: 802-253-6838
Wood fired oven with a focus upon local comfort food complimented with a good selection of craft beer.  Relatively new to Stowe (two years old), food quality has been very good and the menu focuses equally upon sandwiches/burgers and separate entrees.  Reservations are recommended:  802-253-5100
Contemporary fare.  Dine at a table with a view of Mt. Mansfield and the pool terrace or on the terrace, weather permitting.  Competing with Idletyme for the best crab cakes in town award!  Reservations accepted: 802-253-8585
Traditional American and New England Cuisine with several vegetarian offerings.  Good, homemade desserts.  Cozy, casual atmosphere.  The name comes from their collection of antique buggy whips.  Located inside the Green Mount  in Inn.  Reservations:  802-523-7301
Excellent food and wine, albeit a 40 minute drive from the inn.  Seafood, rabbit, veal, steaks, duck and a wide variety of legumes.  Strong commitment to local fresh meats and produce.  Always fresh.  Serves dinner from 5:00pm to 8:30pm Tuesday through Saturday (closed Sun/Mon).  North on I 89 to exit 11, right at exit - Kitchen table is 100 yards away at Jct. of Rt2 & Rt 117.  Reservations:  802-434-8686