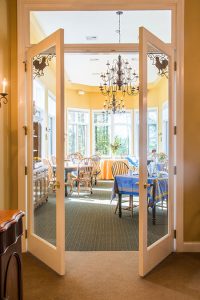 Peaceful. Luxurious. Welcoming.
This uniquely built Inn features nine guest room rooms with king beds, fireplaces, a separate back door to the gardens. Each with baths that have two-person Jacuzzis, shower, dual sinks and, yes, a fireplace! Thoughtful. Intimate. Praised by Forbes.com, U.S. News & World Reports, Yankee Magazine, and especially TripAdvisor.
Designed for couples looking for opportunities to celebrate life together — enjoy recliners throughout the gardens, late movies and popcorn in the Great Room, and exploring 9.5 acres of woods ladened with Maple, White Pine, and Birch that completely surround the inn. Elopements are our specialty, but we also provide a stunning environment for small Stowe, Vermont weddings. Elopement/wedding venue.
We are nine minutes from skiing and six minutes from downtown Stowe. Stowe itself is a charming, sophisticated village home to accomplished crafts, foods, wines, and especially brews – among which Heady Topper is rated best in the world.
Join us in our Stowe bed and breakfast; celebrate life together.



The Stone Hill Inn is consistently ranked as one of the most romantic destinations in New England, most recently earning top-10 recognition from lists released by both Trip Advisor and the Travel Channel, because of our wonderful guests! We are so appreciative of our guests' feedback and reviews!
Beautiful inn run by beautiful people. The Stone Hill Inn was a much-needed vacation for the soul. The gorgeous, well-kept grounds, fantastic views of the mountains, a lovely room with a cozy bed and a relaxing whirlpool tub–what more could you want? Oh yes, delicious breakfasts served with more gorgeous views, home-cooked, varied, and all delicious. They have that too. A welcoming and warm Christie, Todd, and Tony to make you feel at ease and completely at home? Why, yes, the Inn has that too. I can't praise the warm hospitality enough. What about fun places to eat offering great food nearby for lunch and supper? Yep, go out or get it delivered. What about a relaxing fire in the back at the end of your day? That too! What about a waterfall right outside your door where you can lounge in a hammock or just sit and relax? Yep. I highly recommend you book your stay today. This is a gem set in Stowe, VT.
S. Hawes, Google Review