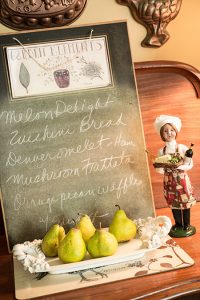 Orange-Pecan Waffles…Pear-Brie omelets…French herbed scrambled with smoked Salmon. Perhaps you would like fresh-cooked Corned Beef Hash while the snow is falling? We prefer Vermont vendors for meats, yogurt, cheese, coffee, granola, butter, sour cream, tea, breads – a dynamic list that continues to expand.
Adding to the food is the environment itself – a dining room like no other. Fourteen-foot ceilings embrace individual tables for each guest room. Early morning sun dances through 40 windows welcoming the sleepy inhabitants anxious for their first cup of Green Mountain coffee.
8:00 am breakfast begins unless you want fresh powder or early tee-off. Let us know. Fresh fruit, home-baked breads, muffins, and coffee cakes, gluten-free options, homemade granola, and yogurt. That's just the start. The eggs are always fresh; the syrup (Grade A; Dark Amber) is always warmed. Sun, smells, coffee, and music announce the beginning of the day.
Celebrate life together.
**Don't let diet restrictions keep you from enjoying time away and our lovely Stowe bed and breakfast. We are happy to make your stay perfect in every way we can.
With advanced notice, we are able to prepare AIP friendly meals, as well as meet restrictions for Paleo, Gluten-Free, Vegan, Vegetarian, and Pescatarian diets.

The three-course breakfast is just to die for–seriously, I would come back for the breakfast alone. It's all freshly prepared each morning and a great way to start off the day!
Colleen T
The inn, the rooms, the grounds are all beautiful and just as welcoming as the hosts. I have food allergies and they even make me a special AIP breakfast every morning that is delicious! We always stay at Stone Hill when we are in the Stowe area!
Guest from Waterville, Maine
The breakfasts were so delicious, fresh, and filling that after Day 1, we cancelled our plans for breakfast outings elsewhere so that we could eat at Stone Hill every morning instead.
Jill and Bill S
We had a wonderful time at Stone Hill Inn. The room was gorgeous and comfortable and the breakfast was out of this world.
Angela H
What a wonderfully serene gem to stay in! Breakfast (included) is top-notch gourmet, with freshly cut fruits and so-much-more (and far superior to the big-name hotel breakfasts). It is our first experience at a B&B in Vermont (we are Vermonters so don't often choose to getaway in our own state), but we would love to come back for another romantic getaway and look forward to staying here during the winter months as well.
Jessica and Steven B