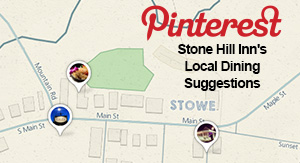 Enjoy these Top Restaurants in Stowe
During your stay, let us help you taste the local cuisine. Explore a few of our favorite local restaurants in our Stowe, Vermont local dining Pinterest board map.
---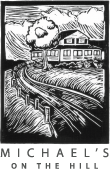 Lovely setting on the hill. Friendly service and a sophisticated menu with European flair. Chef owned and Vermont Restaurateur of the Year for 2012. Menu changes seasonally with emphasis upon local (strong farm-to-table presence) and seasonal ingredients. Michael's (owner and chef) tasting menus and wine pairings are also available. Tables on the enclosed "porch" offer views of the sun setting over the mountains. Smart/casual. Reservations recommended. Closed Tuesdays. Worth the 15 minute drive. 802-244-7476
Excellent casual dining that is now under the ownership and direction of Michael Kloti, owner of Michael's on the Hill.  In the summer they have an attractive dining patio with lots of space and good food.  Located within a mile of Stone Hill and next door to Piecasso.  Commitment to quality food mirrors Michael's on the Hill, as expected.  New challenger to Flannel for best crab cakes in Stowe.  Dress is typical Stowe — very casual/comfortable.  Reservations accepted.
Celebrated Chef/Owner Eric Warnstedt by Food & Wine magazine, serves creative American fare with emphasis on local/organic ingredients.  Good wine list.  Upscale rustic – former grist mill — river and waterfall run next to the the restaurant. Make reservations two weeks in advance.  Smart/casual.  Closed on Sundays & Mondays.  802-244 7300 – located in Waterbury a 20 minute drive.
American fare done very well in an innovative fashion with excellent consistency.  Focus upon seafood, steaks, and pastas.   Casual and comfortable.  Often rated #1 in Stowe by Trip Advisor .  Kathy and son, Andrew, own  and run Harrisons.  Do a wonderful job.  Reservations accepted.  802-253-7773
Pizza, pasta, salads, Paninis and subs in a very casual contemporary setting.  Recommend you create your own pizza from their list of additions.  We like a half-dozen extras — all vegetables.  Excellent!  Salads are very good — we often add a fillet of Salmon or Chicken.  Eat in, take out, or delivery.  Just one mile away   No reservations accepted.  Often Serve until 11 pm.  802-253-441
The menu centers around fresh, hand made, flavorful food – soups, entrees, breads, salads and desserts with a full bar featuring fresh pressed cocktails, local beers and thoughtfully selected wines. Fireside lounge and dining, beautiful Vermont country mountain views.  Consistently rated as excellent by our guests — a good match vs. Harrisons.  Often rated either #1 or #2 by Trip Advisor for Stowe.  Only 2 miles from Stone Hill.  Linda and Mark own and run the Bistro and also do a wonderful job.  Closed Monday & Tuesday.  Reservations: 802-253-6838
Wood fired oven with a focus upon local comfort food complimented with a good selection of craft beer.  Relatively new to Stowe (two years old), food quality has been very good and the menu focuses equally upon sandwiches/burgers and separate entrees.  Reservations are recommended:  802-253-5100
Contemporary fare.  Dine at a table with a view of Mt. Mansfield and the pool terrace or on the terrace, weather permitting.  Competing with Idletyme for the best crab cakes in town award!  Reservations accepted: 802-253-8585
Traditional American and New England Cuisine with several vegetarian offerings.  Good, homemade desserts.  Cozy, casual atmosphere.  The name comes from their collection of antique buggy whips.  Located inside the Green Mount  in Inn.  Reservations:  802-523-7301
Excellent food and wine, albeit a 40 minute drive from the inn.  Seafood, rabbit, veal, steaks, duck and a wide variety of legumes.  Strong commitment to local fresh meats and produce.  Always fresh.  Serves dinner from 5:00pm to 8:30pm Tuesday through Saturday (closed Sun/Mon).  North on I 89 to exit 11, right at exit – Kitchen table is 100 yards away at Jct. of Rt2 & Rt 117.  Reservations:  802-434-8686