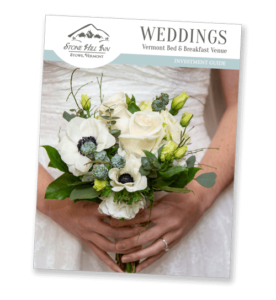 The Stone Hill Inn is committed to making your special day the most memorable and beautiful wedding day possible. We are here to provide our couples with excellent service, kindness, and attention to every detail.
In addition to our packages, we have the following add-ons available for our small elopement and micro-wedding packages. For current prices, please take a look at our Wedding Brochure.
Bar – Minimum alcohol purchase applies
Beer, wine, and/or champagne only
Champagne – priced by bottle
Beer – priced by can
Wine – priced by glass or bottle
---
Justice of the Peace
---
Photographer
Subject to the photographer's pricing structure 
---
Use of dining room/kitchen for catered Rehearsal or Reception dinner for 20 total guests
Must use approved caterer and china, cutlery and/or glass rental
---
Use of dining room for Cake Reception
2-hour use of dining room; does not include use of the kitchen. This add-on is for elopements only as a cake reception is already included with Micro-Wedding packages.
---
Professional Designer Cake
Small 6-inch 1-tier cake serves 8 people
---
Additional Flowers/Bouquets/Boutonnieres
Subject to florist's quote
---
Romantic Couples Massage
The perfect way to relax together! Enjoy side-by-side treatments in the privacy of your guestroom by two highly skilled therapists.
---
S'mores
For your group, up to 18 overnight guests
---
Wine and Cheese Tray
For your group, up to 18 overnight guests

Stowe, Vermont Micro-Wedding Reviews
Overall, we had a PERFECT experience and would do it all over again in a heartbeat. My fiance and I were searching for a venue to elope when we stumbled across Stone Hill Inn. There are a number of reasons why we chose them but it all comes down to Kristie and Todd.
Our positive experience began before we ever set foot on the property and once we arrived, their genuine care and concern for their guests continued to shine. Kristie helped me with every detail of planning our big day from the photographer, ordering the cake, flowers, bubbly and she also would have helped with the officiant but we already had someone identified. All we had to do was show up! It truly doesn't get much better than that. The entire property from the grounds to the rooms to the common areas are all well kept, cozy, and inviting. It is truly like coming home.
Kristie and Todd also do an excellent job with breakfast. I have food allergies and they were able to accommodate my needs and exceed my expectations. Often times I struggle with breakfast options (lack thereof) at hotels/inns but this time, my belly was full and my taste buds happy. If you have food allergies, you understand how challenging this can be! Thank you to Kristie, Todd, and all of the staff at Stone Hill Inn for making our wedding weekend a memorable and loving experience. We are so happy to have shared in this important day with all of you.
Tania and Wayne, New Jersey