We're an Intimate Stowe, Vermont, wedding venue, perfect for Elopements & Small Weddings. Quiet and secluded, Stone Hill Inn is known for its intimacy and charm, perfect for small weddings (up to 40 guests), elopements, engagements, and honeymoons.
At Stone Hill Inn, you'll find a luxurious nine-room retreat surrounded by forests and gardens where you can exchange your vows along garden paths or next to our glistening waterfall, and opportunities for smaller winter ceremonies highlighted by falling snow within a forty-windowed room or by the warmth of the Great Room in front of the fireplace with candles.
Are you looking for quiet peace in a community known for its hospitality? Join us at Stone Hill Inn for your intimate wedding celebration. View Photos or Explore our Wedding Brochure.
Sunday Garden Wedding Package – $6,500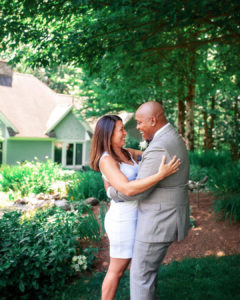 2 to 18 wedding guests with
1-night accommodations (18 guests max)

Enjoy a 1-night stay for up to 18 guests in our top-rated B&B. From an inviting great room to a sun-filled breakfast room, you'll enjoy exclusive access for you, your closest family, and friends. Gourmet Breakfast included. Available May – Sept 15.
Sunday Arrival
Bride and Groom: 2 pm
Other Overnight Guests: 4 pm
Monday Departure
Breakfast Included
All Guests Check-Out: 11 am
Gourmet Breakfast
Monday Morning: 8am-9:30am
Day of Coordinator and Wedding Officiant Included
Ceremony in the Garden
Starts at 5 pm or 6 pm
Use of 18 dining room chairs for the ceremony. 

Reception
Use of Inn by reception guests until 10 pm
Use of Alexa and a single Bose speaker
Add Ons Available
Bar – Minimum alcohol purchase $300
Beer, wine, champagne only
S'mores for the group -$195
Photographer
Subject to the photographer's pricing structure
Use of dining room/kitchen for catered rehearsal/reception dinner for 18 total guests – $250
Must use approved caterer and china, flatware, utensils, and/or glassware rental
Approved Outside
Vendor List
Flowers
Uncle Georges Flowers, Stowe
Wedding Officiant
Mitzi McInnis or Lyndall Heyer
Photographer
Kathleen Landwehrle, Elisabeth Viilu, or Jesse Schloff 
Chair Rental
Vermont Tent Company
Caterer
Suzanna's Catering
Morrisville/Hyde Park
BakeryStowe Bee Bakery, Edelweiss Deli, or Vermont Sweet Tooth Cakes -Bakeries require 2 to 3 months advance notice 
Learn more about our Inn Venue Rental on Mayflower Venues.
Ready to start a conversation? Use the form below.

Vermont Elopement and Small Wedding Reviews
The only warning I have about staying here is that it will be incredibly difficult to leave. I can't wait for us to return for future anniversaries.
My (newlywed) husband and I stayed at Stone Hill Inn for 5 days and then had an elopement ceremony on our last day (the Sunday Garden elopement package, if I recall correctly!). The elopement/marriage options are a blessing, with all the important details taken care of. Stone Hill Inn is an incredibly warm and welcoming home away from home, and it couldn't have been a more perfect place for us to get married.
Anna G.