Sometimes the best getaways are right in your home state! Throughout the year, we often offer deals for Vermont residents. If we aren't running a current special, we encourage you to sign-up for our email list and to like us on Facebook, so you'll be the first to know about upcoming local Vermont lodging deals.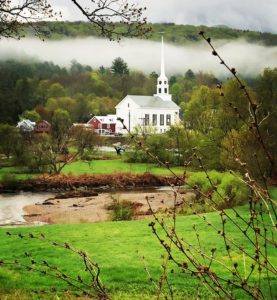 "Stowecation" – Vermont Resident Lodging Deals
Plan a mini-getaway in this beautiful state you call home. Stowe has so much to offer! Vermont residents save 25% on full-priced lodging most of the year–from the end of October through the end of June.
Use Promocode: VERMONT
Rates starting at $225 per night
(two-night stay, per room, double occupancy, taxes included)
2-night minimum stay required.  This offer cannot be combined with other offers or with third party gift certificates.  Vermont proof of residency required.

As Vermonters, our idea of escaping to an inn means hiding out from life at an inn where we can just be together. My partner and I finally found our ideal romantic getaway in the Stone Hill Inn.
We had an inn-room double massage and even ordered take-out. There was ample space in the room for us to use WiFi to do yoga and meditate and we loved being able to walk/snowshoe right from our room door. Private seating at breakfast kept our experience intimate and we took advantage of the large living room to watch movies from the huge library and had the space all to ourselves. Kristie and Todd were helpful and attentive when needed, but not hovering as can be the case at some establishments. So many inns or resorts only have the top-priced rooms with both a Jacuzzi and fireplace, while the Stone Hill Inn's nine rooms all include these features, and for a better price than other comparable rooms in the area.
TripAdvisor review, Guests from Plainfield, Vermont
It is our first experience at a B&B in Vermont (we are Vermonters, so don't often choose to getaway in our own state), but we would love to come back for another romantic getaway and look forward to staying here during the winter months as well.
What a wonderfully serene gem to stay in! The rooms are a few steps away from the peaceful stream/pond, the grounds are beautifully landscaped and the rooms are incredibly clean, quiet, and stocked with everything we could have needed for a romantic get-away. Breakfast (included) is top-notch gourmet, with freshly cut fruits and so-much-more (and far superior to the big-name hotel breakfasts).
TripAdvisor review, Guests from Brattleboro, Vermont
These Vermonters made the right choice and would come again! Very special.
Lap of luxury! We were greeted and toured by gracious innkeepers. Their lovely gardens were scheduled to be on the annual Stowe Garden Tour the next day. Breakfasts in the sunny dining area were excellent…especially loved the maple pastries.
TripAdvisor review, Guests from Vermont