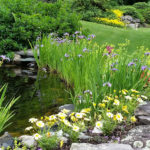 This May, June,  July and August get out and explore this beautiful state you call home. Stowe has so much to offer! Vermont residents save 25% on full-priced lodging.
Use Promocode: VERMONT
Rates starting at $245 per night
(two-night stay, per room, double occupancy, taxes included)
2-night minimum stay required between May 01, 2018 and August 31, 2018. This offer cannot be combined with other offers or with third party gift certificates.  Vermont proof of residency required.

What a wonderfully serene gem to stay in! The rooms are a few steps away from the peaceful stream/pond, the grounds are beautifully landscaped and the rooms are incredibly clean, quiet, and stocked with everything we could have needed for a romantic get-away. Breakfast (included) is top-notch gourmet, with freshly cut fruits and so-much-more (and far superior to the big-name hotel breakfasts).
It is our first experience at a B&B in Vermont (we are Vermonters, so don't often choose to getaway in our own state), but we would love to come back for another romantic getaway and look forward to staying here during the winter months as well.
TripAdvisor review, Brattleboro, Vermont