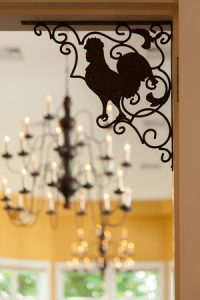 First impressions are …..well you know.
Stone fireplaces nestled back-to-back and reaching the reception area's 14-foot ceiling warm and welcome incoming guests and visitors. Periodically, on the weekends, these fireplaces host a social hour. Guests often join the group and share exploits they've experienced during their stay. We offer beer and wine for purchase to enjoy. This is a favorite time for us to be with our guests. Stowe bed and breakfast.
A 13-foot-long pantry, adjacent to the reception area, welcomes thirsty and hungry guests at all hours. Besides tasty treats from the kitchen, the pantry houses a microwave, complementary popcorn, a coffee machine, a hot water pot for tea and a refrigerator. The fridge boasts free water and soft drinks, while the cabinets contain dishes and silverware needed for snacks and take-out dinners.
Just down the hall is the Great Room (45 X 23 feet). Its draft design as an indoor pool morphed into a relaxation respite with fireplace, a regulation pool table; Fred, the butler, awaits your presence with his tray of chocolates; movies appear on a 55-inch Smart TV/computer surrounded by comfortable furniture. Here winter elopements may take place; you become immersed in the quiet, soothing, unbroken rhythm of fresh falling snow via 35 feet of windows; a couple discovers late-night chess to be strangely romantic; an old book lets you escape to a different time and place. Relax.