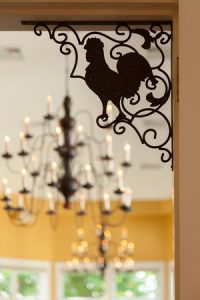 First impressions are …..well you know.
So we anchored the 39'X24' reception area with two 14-foot, stone fireplaces that quietly announce that there is something special here within these walls of this  Stowe bed and breakfast.  Luggage is first deposited here while welcomes and greetings are exchanged. Later in the evening one of the fireplaces hosts the social hour as guests gather for appetizers and to compare notes from the day's activities. Access to the dining room and both the north and south patios is from this room.
The 13′ pantry is a tributary to the reception area. A microwave, coffee machine, and hot water tap are enhanced by cupboards and drawers to facilitate snacks at all hours. Complimentary refrigerator denizens of water, mixers, and soft drinks complete most grazing needs.
Just down the hall is the Great Room (45 X 23 feet). Originally designed as an indoor pool, now it is dominated by four elements: a gas fireplace that is often the scene of winter elopements, 35 feet of windows that face the woods, a regulation pool table, and Fred, the butler, frozen in time with hands out holding a tray of munchies, ever serving his guests. Thus — best two out of three in pool; late night chess; finally finish that book even though you already know the ending. Calm.