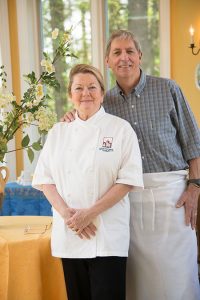 As of October 31, 2011, Linda and George Fulton became the new owners of the Stone Hill Inn — first-time owners and innkeepers. Linda loves creating with food, fabrics, and furniture. George focuses on marketing, maintenance and gardening.
We're in our 60's so we thought that moving to a new state and taking on a completely new endeavor would give both of us purpose, fun, and challenge! We expected and actually looked forward to being "on" nearly all the time – serving others seems to suit both of us. Balancing the long days were many new learnings, a rich environment in Stowe, and the warmth and gratitude of many wonderful guests.
Stone Hill Inn was the 65th B&B we looked at before buying. It was so new and unique that we were unsure whether it was too Avant garde or simply the future of B&B's. Built in 1997/98 and opened during 1998, it became one of the fastest growing inns/B&B's in the US. When inspected by Select Registry to see if it met their standards it received the highest score in their history. After a lot of study and discussions with other innkeepers, we decided that at the core of this luxury Stowe, Vermont inn was a new standard of excellence for the Under 15 Rooms segment of the hospitality industry. So…..we held our breath and signed!