A Stowe Honeymoon; the perfect beginning celebrating life… together!
From the beauty and seclusion of Stone hill Inn to the unspoiled splendor of Stowe's forests, meadows, rivers, mountains and hidden paths; this will be a memory-laden beginning, long to be remembered!
Choose from our two Vermont Honeymoon Packages.  Each package includes:
Three night stay in a Luxury or Classic bedroom with King bed and cozy fireplace. Relax in a spacious bath with shower, candle-lit double-Jacuzzi next to a fireplace.
Linda's three-course breakfasts each morning featuring our famous Crème Brule French toast in the shape of a heart on your first morning.
A sixty minute, relaxation couples massage done in tandem.
Make your own chocolates at Laughing Moon Chocolates; enjoy together later.
A superb dinner at Michael's on the Hill via a $120 certificate (gratuities not included).
Our signature candle-lit, rose petal turn-down service for your guest room on your return from Michael's.
Two keepsake Stone Hill Inn wine glasses.
Complete your Stone Hill Inn Honeymoon Package with one of these experiences: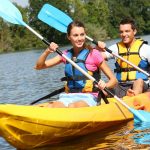 Water and Wine
A morning canoe or kayak on the lovely and quiet Lamoille river (no experience needed – a two-hour float trip). You will end at the Boyden winery where the Umiak Outfitters will take care of your craft for you while you tour the winery and enjoy a tasting. Please, you must call (802-253-6282) to make a reservation.
Total Package Price: $1,799 with taxes*Book Now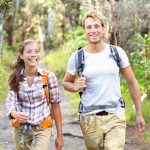 Long Trail Adventure
Meet Greg Speer, a member of the Stowe Mountain Rescue team, who will lead you on a 1-2 hour hike to the most beautiful locations (most visitors don't know about) which could include the historic Ranch Valley, higher climbs via the Long Trail, or, better yet, customized to whatever you want to see. Greg is completely willing and more than capable of creating a journey that is a perfect memory for you! Please, you must call (802-253-6282) to make a reservation.
Total Package Price: $1,779 with taxes*Book Now
*Pricing valid May 1 – September 17, 2015.   Please, we would like two weeks in advance so that we can secure reservations for you. Honeymoon packages may not be combined with any other offers and are not available using third party gift certificates.  All rooms in the Honeymoon packages are Luxury rooms; Corner rooms (Fiddlehead or West Branch) may be added at a premium of $20.00 per night.  After September 17, please call us so we can adjust for peak season pricing. 
We also offer exceptional Stowe, Vermont elopements for indoor or outdoor ceremonies.