A Stowe Honeymoon; the perfect beginning for celebrating life… together!
Take it all in.  The beauty and seclusion of Stone hill Inn, the unspoiled splendor of Stowe's mountains, forests, rivers, and hidden paths, and all the activities that they provide.  Ahhhh.  A memory-laden beginning forever remembered!
Our Vermont Honeymoon Package.  It includes:
A three night stay in a Luxury or Classic bedroom with King bed and cozy fireplace. Relax in a spacious bath with candle-lit double-Jacuzzi next to a fireplace, and there's also a shower and a sink for each of you.
Linda's three-course breakfasts each morning featuring our famous Crème Brule French toast in the shape of a heart on your first morning.
A sixty minute, relaxation couples massage done in tandem.
Chocolates!  Under the expert tutelage of the Laughing Moon Chocolate experts, learn how and make over a pound of chocolates at Laughing Moon.
A superb dinner at Michael's on the Hill via a $120 certificate (gratuities not included).
Our signature candle-lit, silk rose petal turn-down service for your guest room on your return from Michael's.
Two keepsake Stone Hill Inn wine glasses.
Our three-night Honeymoon Package price is $1,610 which includes all taxes.  Prices will vary during peak seasons (MLK birthday, Valentine's Day, fall foliage, and Christmas), so please call us for pricing.
Please, we would like two weeks in advance so that we can secure reservations for you. Honeymoon packages may not be combined with any other offers and are not available using third party gift certificates.  All rooms in the Honeymoon packages are Luxury rooms; Corner rooms (Fiddlehead or West Branch) may be added at a premium of $20.00 per night. *Book Now 
We also have several seasonal events that would add to your Honeymoon enjoyment.  Two of our most popular warm weather events are the Ziplining and the Water and Wine tours:
Ziplining
Soar through the Vermont forests as you ride up to 4,500 feet of zip lines, cross sky bridges and rappel from trees.  The Arbortrek zip line canopy tour provides access to reaches of the forest canopy and views of the area not otherwise available to hikers and explorers.  This fully guided adventure includes eight zipline excursions, two bridges and two rappels.  Outside magazine rates it as "One of the best wilderness Zip Line Tours in the U.S."
Plan on between 2.5 and 3 hours (rain or shine!)
Advanced registration is required.  Age, weight, height, medical restrictions and physical requirements apply to all tours
Light to moderate exertion is required; must be able to act independently.
No open-toe shoes.
Cost:  $200 per couple, plus taxes and fees.  Cancellations require 48 hour notice.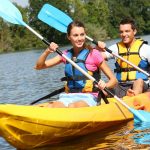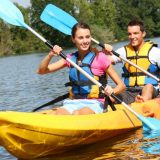 Water and Wine
Together you will canoe the lovely and quiet Lamille river (no experience needed – a two-hour float trip). You will end at the Boyden winery where the Vermont Canoe and Kayak Outfitters will take care of your craft for you while you tour the winery and enjoy a tasting.  You must call us  (802-253-6282) so that we can make a reservation.
Total time will take about 2.5 to 3 hours which doesn't include the 20 minute drive from Stone Hill to the starting point.
Cost is $116.60 which includes taxes.  No open-toe shoes.
  We also offer exceptional Stowe, Vermont elopements for indoor or outdoor ceremonies.