We offer unique specials and packages at our luxury bed and breakfast in Stowe, Vermont.
Last 10 days: prices reduced to $270/night
For the last 10 days of Summer, prices are reduced to $270/night. Quiet, secluded, a welcoming place to catch your breath; to take some time to celebrate life… together!
Two of our luxury rooms now have midweek prices of $270/night and weekend prices of $285/night.  (Moss Glen and Sugar Maple)  Valid through September 6 through September 18. Must book AFTER September 5.
Each room has a King bed, door outside to the gardens, fireplace in the bedroom and in the bath.  Each has a bath with a double Jacuzzi tub, two sinks and a shower.  Three course breakfast included.  Not valid with any other offer or promotion.
Signature Romance Package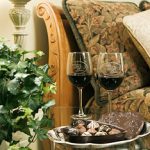 Let us take care of everything you need for a romantic getaway with the Signature Stone Hill Romance Package. The $355 package cost is in addition to your minimum two-night stay.
1 Hour Couples Massage. (Please allow for a minimum of three working days to insure
therapist availability — additional days are often needed during peak seasons.)
Horse Drawn Carriage or Sleigh Ride at Dusk
Signature Silk Rose Petal Turndown Service
2 Stone Hill Inn Logo Wine Glasses
Looking to Propose, Get Married or Honeymoon?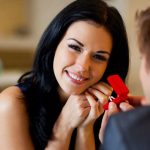 Planning on proposing while at Stone Hill Inn? 
Perhaps you would appreciate some assistance with the details?
Consider our Vermont Proposal Package.
Considering getting married in Stowe, Vermont?
Ask us about our Wedding and Elopement Packages at Stone Hill Inn.
Honeymooning with us?
Our Honeymoon Package is the perfect way to celebrate.
Handmade Local Chocolates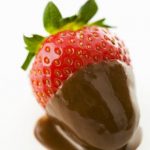 Heart-shaped Box of Chocolate filled with handmade Chocolate Truffles — $30
One Pound Box of assorted Handmade Chocolate Truffles — $35
One Dozen Chocolate-Dipped Strawberries — $35
Seasonal Flowers & Bouquets
Silk Rose Petals scattered on the bed on the evening of your choice. — $15
Small Vase of Seasonal Flowers with a Personalized Card — $42
One Dozen Long-stemmed Roses with a Personalized Card — $80 or Market Price in February
Horse Drawn Sleigh Ride for 2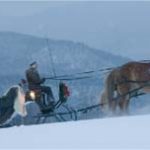 Take a romantic horse drawn sleigh Ride for 2 through a gorgeous winter wonderland. Perfect for Proposals! — Available December through March assuming plenty of snow. — $75 – $85
Call (802) 253-6282 for Availability!
Take Home Li'l Miles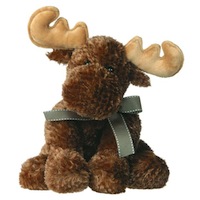 Take home the perfect memento from your stay at Stone Hill. A cuddly stuffed version of Li'l Miles, the Inn's mascot holding — $20
Personalized Card
Add a Personalized Card with Vermont Artwork to any item — $6
Massage Treatments
Stone Hill Inn massage treatments are offered fireside in the privacy of our guestrooms. As our massage therapy program is quite popular, last minute requests sometimes are challenging to accommodate. Ahhhh, so we can accommodate your schedule, a little advance notice is worth tons! When possible make your request when you book.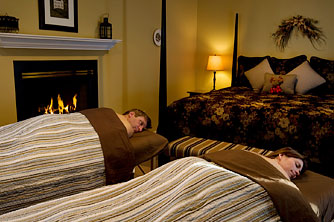 Romantic Couples Massage — Receive side by side treatments by two therapists. Multiply the cost of any of the below treatments by two.
Relaxation Massage — Melt away the stress of the outside world. Utilizing traditional Swedish techniques and myofascial release, our relaxation massage is calming to the body and mind. $120/1 hour or $160/1½ hours
Stone Hill Inn Signature Hot Stone Massage — Our signature treatment offers 80 minutes of pure bliss. Portions of this treatment incorporate the use of basalt hot stones on the hands, feet, neck, and back.  Our signature bergamot-vetiver body butter and a facial rejuvenation treatment enhance the experience. Perfect for him or her, this massage is designed to relax and restore you.  $190
Aromatherapy Massage — Intensify your massage experience by incorporating your sense of smell. Utilizing only the purest essential oils, we are pleased to offer five different blends to soothe, inspire, and relax you. $120/1 hour or $160/1½ hours
Deep Tissue/Sports Massage — Designed to relieve pain and general discomfort from injury or to enhance your athletic ability; this is a full-body massage with a concentrated effort on those areas that challenge you most! This treatment includes use of neuromuscular techniques and assisted stretching. $130/1 hour or $180/1½ hours
Chocolate Bliss Massage - Chocolate lovers will adore basking in the moisturizing and detoxifying benefits of our chocolate massage treatment. Our signature chocolate massage oil is made from pure organic cocoa bean extracts and blended with jojoba and apricot kernel oils. The scent is intoxicating. Chocolate is very rejuvenating, moisturizing, and is good for cell renewal. Because chocolate has substances that induce euphoria, our treatment creates an endorphin release that will leave you renewed and relaxed. Pre-massage chocolates will arrive with your therapist, and post-massage you will be treated to a warming cup of cocoa (cool weather) or a scoop of decadent chocolate ice cream (warmer weather). This one-hour treatment is recommended for chocolate lovers only! $145
Maternity Massage — A gentle massage designed to ease muscle tension, aches and stress on the joints for the mother-to-be.  All our therapists are certified in prenatal massage. $120/1 hour or $160/1½ hours
Please note: 24-hour's notice required for massage cancellations, or no refund will be given. Gratuities should be paid directly to the therapists at the time the service is performed. Thank you.
Ahhhh. Welcome to our  Stowe, VT bed and breakfast.