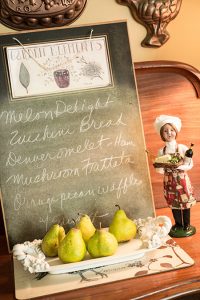 Breakfast is, of course, "the most important meal of the day," so, Linda insists on everything homemade to be sure you'll be ready for all 4500 feet of Mansfield or shopping at Shaw's downtown near our bed and breakfast in Stowe, Vermont! Fresh Vermont Green Mountain coffee magically appears in the pantry by 7am, or earlier if you knock on the kitchen door! Linda might even sneak you a slice of the day's freshly baked treat as well!
Like powdered sugar on your orange-pecan waffle, sun dabbles the two of you within a cathedral of 40 windows and 14 foot ceilings. Breakfast is from 8:00 to 10:00 am; ample time to take personal inventory, share ideas, and plan the day. However, for those who hear the call of fresh powder or greens with no spike marks a 7:30am launch needs just a whisper in our ear and it's done!
Ours is a multi-course meal, so pause and relax. An infinite supply of coffee was brewed only minutes ago. You may have both the frittata and the pancakes if you wish. Of course, the genuine Vermont Maple syrup is heated. Yes, eggs to order are always available. Relax. Enjoy the view. Listen to the music – some days Celine some days Bach. The day has started! Yum!
Unexpected opportunities to celebrate life together in our Stowe bed and breakfast for the getaway of a lifetime.