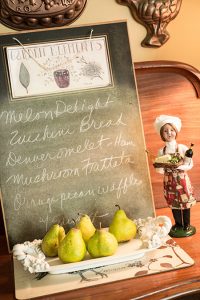 Orange-Pecan Waffles…Pear-Brie omelets…French herbed scramble with smoked Salmon. Perhaps you would like fresh-cooked Corned Beef Hash while the snow is falling? We prefer Vermont vendors for meats, yogurt, cheese, coffee, granola, butter, sour cream, tea, breads – a dynamic list which continues to expand.
Adding to the food is the environment itself – a dining room like no other. Fourteen foot ceilings embrace individual tables for each guest room. Early morning sun dances through 40 windows welcoming the sleepy inhabitants anxious for their first cup of Green Mountain coffee.
8:00 am breakfast begins unless you want fresh powder or early tee off. Let us know. Fresh fruit, home baked breads, muffins, and coffee cakes, gluten free options, homemade granola and yogurt. That's just the start. The eggs are always fresh; the syrup (Grade A; Dark Amber) is always warmed. Sun, smells, coffee and music announce the beginning of the day.
Stowe bed and breakfast. Celebrate life together.

Linda and George thought of everything and made us feel so welcome in a delightfully unobtrusive manner. The Fiddlehead room, where we stayed, was so beautifully appointed, and the views of multi-colored trees from our windows made it hard to leave this mini-oasis. The rest of the inn included public rooms which enhanced the feeling of being at home. The kitchen area was well equipped with ample drinks and a delicious home-made treat each day. That brings me to breakfast, where we were served a gourmet meal to order in a room where the views from multiple windows were mesmerizing. I know this is a list of this' and that's, but the bottom line is Linda and George have "nailed it". They have raised the bar to a height that makes their Inn a model of beauty, comfort and kindness.
Janet G
Linda's cooking may have been one of the best parts of the weekend! Everyone was so friendly and the rooms were so warming and cozy. I couldn't have asked for a more perfect place to stay. My husband and I have agreed this will be a new yearly place to visit!
smnthbts24