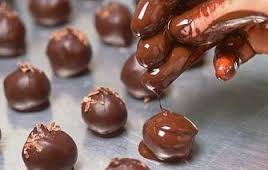 Like the smell of freshly made chocolate?  Think you could stand to dip your hands in warm chocolate for an hour?  How about a hands-on-workshop at Laughing Moon Chocolates where you both prepare and dip your own chocolates?  Tasty!  Perhaps caramels, buttercreams, truffles, turtles, or clusters?  Yum!  When it's over, if you're still standing, you each walk away with about a pound of handmade Stowe chocolate.
Cost is $145 per couple.
Must schedule ahead.  Cancellations require a 48 hour notice.