Specials & Packages
15th anniversary Celebration: all rooms $250/night!
Average Savings of 25%/night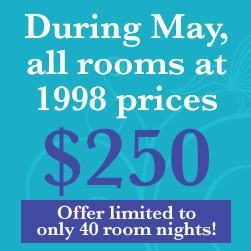 15 years ago the Stone Hill Inn opened at a price of $250/night. To initiate our season of celebrating 15 years of success and to say thanks to all past and future guests, we have reduced the prices on all rooms during May 2013 to $250/night – an average savings of 25%! The details are:
Only reservations for the first 40 nights are eligible to receive the $250 price! (The remaining nights that are eligible to be booked will be announced each morning on Facebook.)
This offer applies equally to all rooms (when we opened all rooms had the identical price!)
You must stay a minimum of two consecutive nights.
This Celebratory pricing applies only to stays during May 2013.
When booking online, you can choose the "15th Anniversary" package that gives you the $250/night rate by either (1) choosing a specific room from the "Rooms" section and clicking on the "15th Anniversary" button NOT the "Room Only" button, or (2) if you are using the two-week, Reservation Availability Calendar and you have selected your room from the calendar, you must next click on "A. 15th Anniversary" on the PACKAGE screen when it appears in the reservation process. When making a phone reservation, you must mention to us that you want the 15th Anniversary package in order to receive the $250 pricing.
This promotion cannot be combined with any other promotion, discount or offer and is only available at the time of making your reservation. Prices do not include taxes.
Average savings of 25% results from a weighted average from a 32% savings on Corner rooms; a 26% savings on Deluxe rooms, and a 16% savings on the Classic rooms.
This is the first of many events that will be announced during the 2013 Season of Celebration for Stone Hill. Wonderful!
We look forward to welcoming you at our intimate Stowe, VT bed and breakfast.