58th Annual Antique Car Show :: Celebrate in Stowe
Updated on July 22nd, 2015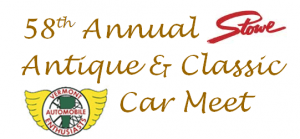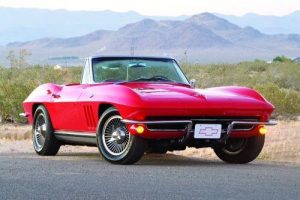 You may recall my secret desires as a young lad as expressed in my blog about last year's 57th Antique Car Show where I confessed a deep attraction towards a 1967 Corvette – a desire that, over the years, seem to give way to financial and emotional maturity, thus never fulfilled. Nonetheless, you have to admit this was a very cool car.
But long before reaching college where the Corvette picture hung on my wall, there was the 1952 Hudson Hornet. (Hudson who? Who knows?) A hand-me-down from grandparents who were no longer driving, this became our unexpected second car. This, it would turn out, would be the car I would use when taking my first driver's test.
Driver's tests were simple in those days – read the pamphlet, answer the questions – no problem. Eye exam was a waste of time for 16 year-old eyes, and driving a couple of blocks was….well, also a waste of time. However there was one element of the driver's test that was a bit challenging. The parallel parking test. (Do they still have that?).
How do you parallel pa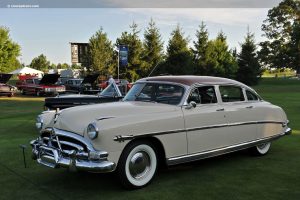 rk a 3,620 pound, 17.3 feet long, 6 ½ feet wide beast with no power steering? Carefully and with a lot of practice. I knew it would be the toughest part of the test. Despite sweaty palms and an accelerated heart rate, remarkably I passed. Immediately this tank-like vehicle became the taxi for four of us to attend all away basketball games for our high school team. (We won the state championship that year.)
But the Hornet had its peculiarities. About 30% of the time when you stopped at a stop light the car would unexpectedly die. And then it wouldn't start, despite constant cranking. After several embarassing moments as captain of the Hornet taxi – losing some face with the lads – we diagnosed the problem. The engine wasn't getting enough air. Thus, we became a veritable pit crew. The lads poured out of the car, one lifted and held the hood, another removed and remained at the ready with the canister on top of the carburetor that contained air filters which probably had become totally dirt, and a third held the butterfly valve in the carburetor 30% open and I cranked the engine again. Success! We could even do this in the time it took for the light to change. Impressive crew.
Such is the zeal with which I approach this 58th annual event in Stowe, VT!
The 58th Stowe Annual Antique Car Show is a perennial favorite in Stowe, Vermont. After 57 years, Stowe has gotten pretty good at capturing some of the most interesting Antique cars from all over the U.S. while making the show quite charming. After a restorative night's sleep and healthy breakfast at Stone Hill Inn, which this May was among the first to ever be inducted into the Trip Advisor Hall of Fame for performance excellence, you are ready for a full day of Stowe and the Antique car show!
Over 800 antique & classic cars are on display flanked by food concessions, giant automotive Flea Market, and the Car Corral. Stowe, Vermont has hosted the Vermont Automobile Enthusiasts, Inc. Antique and Classic Car Meet for more than 50 years. It is one of the largest and oldest in New England and has become a cherished summer tradition in Stowe. The show will be located on Nichols Field, Route 100, South of Stowe Village. Be sure to book a stay with us at the Stone Hill Inn for your weekend!
Some of the events that take place are:
Automobile Judging
Vintage Fashion Judging
Flea Market & Car Corral
Automobile Parade Awards Ceremony
Street Dance Saturday night from 7 – 10p
(closed to traffic but the cars will be there!)