More than a romantic getaway, your Vermont honeymoon is the start of your new life together! Stowe's charming, natural beauty is the perfect setting to create your first memories as a couple! Whether relaxing by the fire, sharing a farm-to-table meal, or hitting the slopes, Stowe has so much to offer for Winter Honeymoons.
Stowe Top 5 Activities for Winter Vermont Honeymoons
Hot air balloon ride with champagne at Above Reality Ballooning.  Jeff is a wonderful and very responsible Captain.  He's also a Justice of the Peace and does weddings in the balloon! Balloons go during winter and summer.
Make a wish while standing next to Bingham Falls.  Winter transforms the series of five different falls into ice sculptures created by thick layers of ice that disguise the rocks that shape the falls.  Everything becomes white.  Thick Ice shapes form; mist is always rising.  Lovely, albeit slippery.  Watch where you walk!  Bring your camera.
Dog sledding at Edens. You get to know each dog, actually harness them, and with tails wagging and excited barks you'll sense how anxious they are to get started! Two of you with blankets in a warm sled with your guide/musher to ferry you through the spectacular  snow country of northern Vermont!
Take a sleigh ride over the hills and through the woods.  Just a few minutes from Stone Hill is a comfortable horse-drawn sleigh with thick blankets and an experienced driver.  While only  a 30 minute voyage, you will feel transported to a different time and certainly to a significantly different place in comparison with the eastern cities from which you likely hail. Giddy up!
Share our Crème Brulee French toast made especially for you in the shape of a heart.  Crème Brulee French toast is the most requested of the sweet breakfast items that we serve. Using a porcelain, heart-shaped dish, we create this delight the night before; let cool in the refrigerator; heat it when you arrive for breakfast, and serve with warmed Vermont Maple syrup!
Why's it called Honeymoon?
"Honeymoon"– where does the expression come from?  It appears that nobody is absolutely sure, however the Merriam-Webster dictionary reports the etymology is from "the idea that the first month of marriage is the sweetest" (1546). Of course it is a very special time when your focus is simply having fun together, and your days are filled with tenderness and pleasure for each other. Truly, a celebration of life.
Stone Hill Inn's
Winter Vermont Honeymoon Package includes: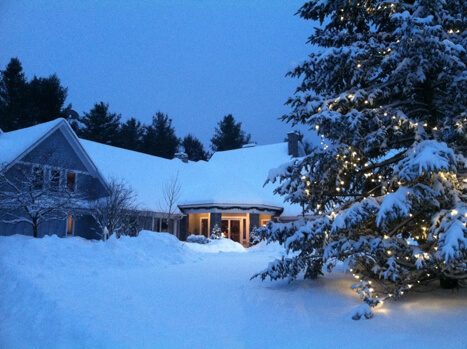 A three night stay in a Luxury or Classic bedroom with King bed, sitting area, and cozy fireplace. Relax in a spacious bath with candle-lit double-Jacuzzi next to a fireplace, and there's also a shower and a sink for each of you.
Three-course breakfasts each morning. (Have dietary restrictions? No problem. We'll work with you!)
A sixty minute, relaxation couples massage done in tandem.
Chocolates! Under the expert tutelage of the Laughing Moon Chocolate experts, learn how and make over a pound of chocolates at Laughing Moon.
A superb dinner at Michael's on the Hill via a $120 certificate (gratuities not included).
Our signature candle-lit, silk rose petal turn-down service for your guest room on your return from Michael's.
Two keepsake Stone Hill Inn wine glasses.
Cost: $565, plus three night minimum stay & taxes
To purchase our Vermont Honeymoon package online, use promocode: HONEYMOON
*Room prices will vary for our three-night Vermont Honeymoon Package during peak seasons (MLK birthday, Valentine's Day, fall foliage, and Christmas).
**Please, we would like two weeks in advance so that we can secure reservations for you. Honeymoon packages may not be combined with any other offers and are not available using third party gift certificates.

We had a month-long honeymoon during which we spent time at many B&Bs and Inns. This is definitely the best one. The great jacuzzi bath and double sided fireplace make the room so romantic. The place is just magical, go and check by yourselves!
Itamar H, Tel Aviv, Israel

We stayed at Stone Hill Inn last week for our Honeymoon and it was amazing!! Kristie and Todd were so accommodating and such nice down to earth people! The breakfast every morning was so delicious and our room was very comfortable and spacious. The whole place is so beautiful! I can't wait to go back! I can't say enough good things about Stone Hill Inn!!!
Jessika2142, Rhode Island

Want to read even more about Vermont Honeymoons?