Honeymoon in Vermont : Two Couples Celebrate at Stone Hill Inn
At Stone Hill Inn we love celebrating special occasions! Pictured below are Annabel and Jamie, who arrived Friday May 16 to celebrate their honeymoon in Vermont. Dominic and Stephanie from Ottawa enjoyed their honeymoon at Stone Hill Inn just a few days earlier.
Jamie is in the retail business and loves animals. Annabel loves to paint and is also an actress and will be in two pictures soon to be released. The first picture stars Cameron Diaz; the second stars Denzel Washington!
These bring the total number of honeymoons celebrated so far at Stone Hill Inn in 2014 to eight! If you are considering a honeymoon in Vermont, be sure to check out our Vermont Honeymoon Package, which can be customized to your wishes.
Best wishes to all our newlyweds!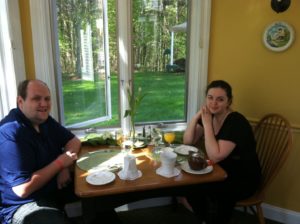 Tags: Vermont Honeymoons