(Video Caption: Feb 15, 2019 – 12″ of fresh powder!)
Pack the car and head to Stowe!
We will have the warm cookies and jacuzzi tub waiting at the end of your day on the mountain. Double-sided fireplaces in each guestroom and delicious sunlit breakfasts!
When the resort life just isn't for you, get away from it all, while still enjoying easy access to all of Stowe's best slopes. We're located minutes away from downtown Stowe and the Mountain.
---
Did you know Stowe is one of the WORLD'S Best Ski Towns for Foodies?
Fodor's Travel named Stowe, Vermont #2 in a round-up of the World's Top 10 Ski Towns for Foodies. You'll have to go to France, to do better! Yum!!!



My advice is to stop searching for a B&B, just stay at the wonderful Stone Hill Inn.
Traveling to a snowy destination in winter was our desire and we were thrilled with the snow upon arrival in Burlington. It is about a one hour drive to Stowe. A bit more in the snow storm. The enterance is well marked. Todd was there to greet us and show us the amenities of the Stone Hill Inn. Our room, as do the others had a 2 sided fireplace between the bedroom and bathroom. It quickly took the chill out of the air. Very comfortable king size bed and Linens. We stayed 4 nights. At breakfast Todd was the chef and Kristi the host. Their care was supplemented by a great guy, Tony. His job waiter, housekeeper and tour guide. After visiting for 15 minunets, returned with a map and suggested activities for the day. In the meantime Todd prepared a great breakfast, alternating between sweet and savory, (French Toast, breakfast tacos, pancakes and omelette). There were also pastries and fruit. As we finished breakfast Todd and Kristi checked on us, and gave more recommendations to enjoy Stowe. They also set up dinner reservations and a sleigh ride. We also enjoyed the scenery and landscape. Great view from our room.
Gary, Oklahoma on TripAdvisor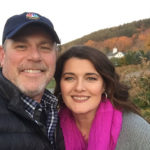 We look forward to hosting you at the Stone Hill Inn.
Stone Hill Inn is the perfect Stowe mountain lodging choice for hitting the mountain and then retreating to quiet, luxury. There's a reason Yankee Magazine voted us "Best Romantic Getaway in New England." Book your Winter or Spring stay today and find out for yourself. We know you won't be disappointed! Call us to book your romantic getaway today (802) 253-6282 or book online. Romance is always in season!