Corned Beef Hash = Trendy Breakfast Recipe!
Updated on March 10th, 2015
Hash is a dish consisting of diced or chopped meat, potatoes, and spices that are mixed together and then cooked either alone or with other ingredients such as onions. The name is derived from the French verb hacher (to chop). Corned beef hash became especially popular in some countries including in Britain and France during and after World War II as rationing limited the availability of fresh meat.
Although the exact beginnings of corned beef are unknown, it most likely came about when people began preserving meat through salt-curing.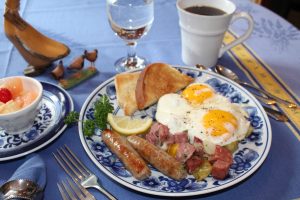 Evidence of its legacy is apparent in numerous cultures, including Ancient Europe and the Middle East. The word corn derives from Old English, and is used to describe any small hard particles or grains. In the case of "corned beef", the word may refer to the coarse granular salts used to cure the beef. (Wikipedia)
Hash has recently made a comeback as more than just a dish for leftovers or breakfasts of last resort.
High-end restaurants now offer sophisticated hashes and the first cookbook dedicated exclusively to a wide variety of hashes – Hashcapades — was self-published in 2012. (Wikipedia) Evidence for the revival of Hash can be found in almost any city in some very trendy restaurants: Sweet potato hash with crab at the Blue Water Grill in New York. Smoked Salmon Hash at Brix Tavern in Portland, Oregon; Haggis Hash Deluxe in Edinburgh; Roasted Sweet Potato Hash at Julians in Providence; or Smoked Brisket Cornbread Hash at Smoke Restaurant in Dallas. Hashcapades is also a blog.
At Stone Hill Inn we favor a Corned Beef Hash offering whose success results both from the meat selection and the meat preparation. Flavor is key but tender beef is the first priority. We like to start with about a three pound cut of corned beef which is more than enough to feed a full house of guests at breakfast (18 people) when combined with another entrée (e.g., Crème Brulee French Toast) at Stone Hill.
We begin with a recipe from the Williams-Sonoma kitchen library: Breakfasts & Brunches.
This is a 1997 Weldon Owen Inc. production.
Then we make some changes!!
Ingredients (We've doubled the ingredients since they are based on 1.5 pounds of beef and we are using 3 pounds.)
2.5 lb Yukon Gold or other waxy yellow potatoes; unpealed cut into ½"(12mm) cubes . We actually use more potatoes than this — we like to have an equal number of potato cubes as we have cubes of prepared corned beef.
4 tablespoons unsalted butter
2 large mild yellow onion, cut into ½" dice. We also like to add another small yellow onion.
2 green pepper (capsicum); seeded, deribbed and cut into ½" squares. We like to also add on or two yellow peppers.
2/3 cup (160 ml) milk
1 cup (40gm) finely chopped fresh parsley, plus sprigs for garnish
4 tablespoons finely chopped fresh chives
4 tablespoons (2 fl oz -60ml) vegetable oil
The Magic. The preparation of the meat begins with the instructions on the package, but primarily we place the meat in a deep container on the stove and fill with water until the meat is completely covered. We bring this to a boil and then turn down to simmer for about three hours. Then we let the meat sit in the bath until cool, allowing it to continue to absorb flavors from the water. Wrap the meat and put in the refrigerator so it is ready for the final stages of CBH production. Don't throw away this water – keep covered and you will use it to cook the potatoes in the morning.
Begin. Next morning: retrieve the beef from the fridge, trim off excess fat and begin to cube into ½" dice. Set aside.
Get the potatoes cooking. Place in a large saucepan with lightly salted cold water to cover. (We like to use the cold water remaining in the pot that cooked the beef for more flavor– you won't need salt). Bring to a boil over high heat; reduce the heat to medium and simmer, uncovered, until just tender enough to pierce with a fork. About 5-7 minutes. Do not overcook.
Meanwhile, in a nonstick frying pan over medium heat, melt the butter. Add the onion and bell peppers and sauté until onion is tender-crisp: about 4-5 minutes. Set aside.
Mix. Drain the potatoes and place in a bowl. Add the onion and bell peppers; set the frying pan aside and do not wash. Now add the corned beef, milk, chopped parsley and chives. Toss to mix well, taking care not to mash the potato pieces. Season to taste with salt and ground pepper and toss again. Heat the vegetable oil in the reserved frying pan over medium heat; add the hash mixture and blend. Set aside.
To the Tables! You're ready to take orders from the guests. Scoop out enough of the hash mixture for one serving and place into a small frying pan with some light vegetable oil. As this begins to warm, prepare the egg(s) that you will place on top of the reheated hash. We like the eggs Sunnyside up for looks and because the broken yolk mixes and adds flavor to the overall hash dish. However, any egg preparation will work. Just before adding the eggs, we like to sprinkle a small amount of freshly shredded sharp cheddar on top of the hash.
How we pitch it. This morning we are serving Corned Beef Hash. We take corned beef and cook it completely covered in water for three hours and then let it cool while still in the water to absorb all the flavors. We place the beef in the fridge overnight and in the morning we trim and cut into small cubes. Then we begin adding all the vegetables until it is a warm, fresh, flavorful mixture! Usually we serve it with one or two eggs right on top of the hash.