Dog Sledding :: Stowe, VT
Updated on December 2nd, 2021
"Ready, hike."
Football?
No. Dog sledding.
Know much about dog sledding?  Neither did I.
Wanna go?  It sounds like fun but, if you are like me, you would first be concerned about the dogs.  You wonder about the discipline that must be applied to these creatures to get them to pull several hundred pounds in the numbing cold for hours.  Perhaps you have seen pictures of dogs chained to their outside dog house when they aren't running (very common), or you're just concerned about the amount of time that they must remain outside – particularly in the winter!
Not at Eden Dog Sledding in Eden Mills, Vermont.  Jim Blair, in addition to being owner, musher, and a national and international sled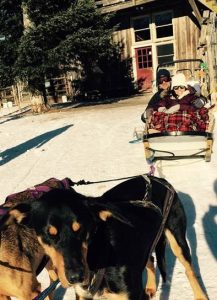 dog racing champion, is recognized as a do-it-my-way innovator when it comes to the care and training of these Alaskan Huskies.  Jim calls them the Unchained Gang because he has learned that letting teams of dogs live and play together (in enclosed areas) is good for their health, their disposition and makes them fun with the guests.  It takes time to learn which dogs like to be with which, but Jim thinks it's well worth the effort.
Preparation for your ride.  Guests spend their first hour with Jim learning about the Alaskan Husky breed, the principles of the Unchained Gang, and why he believes in them.  Also during this hour, you will meet each dog personally and then hitch them to your sled.
Barking dogs — they want to go!  They're calling Jim to get on the trail.  Off you go!  You spend your next hour folded together under a thick blanket in one of Jim's sleds.  Jim has over 100 gorgeous acres and more than 10 miles of trails. (He grooms them every day; summer and winter.)  Snow is flying, dogs are barking, you can smell the freshness of unspoiled Vermont all around you!  If you love natural beauty and vistas, you're having a stunning experience!
Once you have returned you help Jim feed the dogs and unhitch them.  Later you feed them treats.   Inside the large cabin, Jim's sister has a cup of hot chocolate and baked goods for you.  You note that there are several couches near the fireplace.   All the seats are taken by the parents of the dogs that just took you on your ride.  They don't control the trails anymore; they control the couches!  Your team of dogs passes through on their way to one of the fenced areas where they can play.  Jim comments on the typical comments he hears from past guests:  "I'll never forget this."  "I love the dogs!"  "The dogs couldn't have been more affectionate."  "They seem never to tire and love the whole experience."  We hear the same comments when they come back to Stone Hill!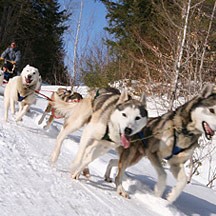 The dogs aren't really tired.
This has just been a warm-up run for most Alaskan Huskies.  "When it comes down to sheer capacity for prolonged exercise," says Ken Hinchcliff, an Australian veterinary physiologist who's done more research on sled dogs than any other scientist, "there is no other animal, including humans, that comes close to competing."  (Feb 15, 2010; Outside magazine).  Peak sled dogs have a VO2 max of 200 milliliters of oxygen per kilogram of body weight per minute.  (VO2 is a measure of oxygen consumption that reflects aerobic physical fitness and sustained endurance.)  Bicyclist Lance Armstrong (Tour de France winner) maxed at about 85.  Peak sled dogs when running as part of a team can run sub-four-minute miles for 60 or 70 miles.  (Perhaps not every sled dog, but even the "ordinary" dogs have exceptional endurance by human standards!  When in peak condition the best of the sled dogs can increase the size of their heart by 50%)
Sled dogs are much more efficient than we are.  "On the level of genes and regulatory proteins, we're surprisingly close [to sled dogs]."  Research completed by Hinchcliff and others reveals that – "sled dogs aren't' just extreme in their aerobic capacity; they possess a variety of souped-up systems."  Sled dog muscle cells contain about 70 percent more energy-producing mitochondria than human cells.   Secondly, sled dogs don't sweat; they dissipate heat through paws, noses, and tongues.  "Our human system of evaporative cooling may cool us off, but it costs us water, electrolytes, sugars, and proteins.  Sled dogs conserve theirs by relying on a cool environment. "Lastly, human muscle relies on the burning of glucose (stored glycogen in muscles), but it burns HOT, so it is only good for short spurts.  Sled dogs burn fats that contain twice the caloric density vs carbohydrates and fats burn much "cooler," so dogs can sustain muscle use for a much longer period of time.   Sled dogs, when training for big races, are often fed a diet that contains up to 60% fats.
"In other words, the human strategy for using energy becomes unsustainable much more quickly.  Even at slower paces, as in a marathon, we use up the muscles' stores of glycogen in about three hours.  After a day's rest, we're still depleted.  Sled dogs just keep ongoing. "
Jim has been working with six different generations of dogs at his Eden Mills headquarters.  His concern for the dogs and the quality of the overall experience at Eden Dogsledding is why we like working with the Unchained Gang.
Tags: dog sledding, winter activities