Stowe Hot Air Balloon Festival July 11-13, 2014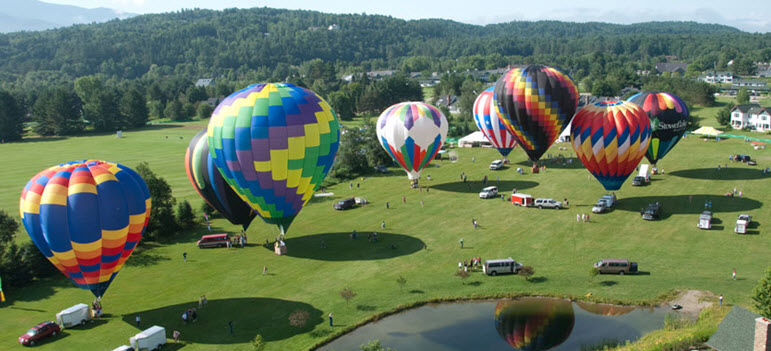 After a Spring of wonderful weather we head into Summer and the many festivals that dot the Stowe calendar. First up – the 28th annual hot-air balloon festival held less than a mile from our Stowe bed and breakfast –  the Stone Hill Inn. Over 25 of these beautiful creatures will paint the sky with vibrant colors from July 11-13. A wonderful photography venue but better yet – you can go for a ride!
Ballooning, as you probably know, is the oldest successful human-carrying flight technology. The first flight was a two-person journey on November 21, 1783 from Paris, France! (Wikipedia)
We've arranged for several of our guests to go hot-air ballooning this Spring using our local balloon provider Jeff Snyder and his Above Reality balloon company. A recent couple celebrated their honeymoon by ascending 1,600 feet and traveling over 11 miles. Weather is always a factor and Jeff, designer and builder of balloons, is very conservative. He suggests not betting on only ONE day, but have at least two or three days from which to choose in order to be more assured of getting weather needed for a flight.
According to Jeff, very few say that they are afraid once they are in the air. He says that it's because unlike a cliff, there are no edges to look over when you are in a balloon. We had a chance to experience a taste of ballooning two weeks ago – 75 feet up from in one of Jeff's tethered balloons. Quiet, soft, fresh perspective. Looking for a great way to celebrate life together! Come!