Fall Foliage in Vermont – Book Now for Next Year
Updated on September 23rd, 2020
Vermont leaf season is unmatched.
Not surprisingly, TripAdvisor names Stowe as the Number One destination for fall peeping, but not just for fall foliage in Vermont, but for leaf peeping in the entire United States. 
From early September through late October, Stowe visitors marvel at our gold, orange and red hues. To put it simply: our fall leaf peeping is amazing. Whether you come for a relaxing drive or a more adventurous fall hiking adventure, you won't be disappointed.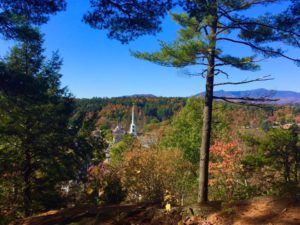 ---
Vermont Lodging:
Where to stay for fall leaf season?
Your lodging is one of the most important decisions in your Autumn getaway planning. In 2017, Yankee Magazine named our award-winning property "New England's Most Romantic Getaway." If you're planning a romantic getaway for fall foliage in Vermont, then the Stone Hill Inn might be the perfect fit. We're a couples-only, romantic, luxury bed and breakfast.
During leaf season, we have very few vacancies. Make sure to book ahead-of time; many guests even book a year in advance!
---
Vermont Activities:
How to best enjoy fall foliage in Vermont? 
Get outdoors. There are so many places and activities that will immerse you in the beauty! A few our favorites are biking, hiking, or zip-lining.
Don't forget to take a drive along the Mt. Mansfield Auto Toll Road; you'll see simply spectacular views of the Stowe, VT area.
---
Vermont Dining:
Where to eat dinner in Stowe?
Stowe is a foodie destination! Many of our restaurants offer farm to table dishes and are happy to accommodate dietary needs. Some of our favorites are: Harrison's, Bistro at Ten Acres, Plate, Michael's on the Hill, and Hen of the Wood.
FYI: The Stone Hill Inn is AIP, Paleo, Gluten Free, Vegan, Vegetarian and Pescatarian diet friendly. Don't let diet restrictions keep you from enjoying time away and fall foliage in Vermont. We are happy to make your stay perfect in every way we can.
---
Come and see for yourself why Stowe is the #1 place for Fall Leaf Peeping!
---
Tags: fall, fall foliage, Fall in Stowe VT, Get Outdoors, Hiking, Stowe