Stowe British Invasion – September in Stowe, VT
Updated on August 21st, 2018

The Stowe British Invasion is celebrating its 28th year this September 2018
The Stowe British Invasion annual event takes place on the Stowe Events Field, only a 6-minute drive from Stone Hill Inn. This full weekend event features driving tours, receptions and dinners, a Stowe Main Street Party, and on the big day Judging and Competitions, British Car Corral, and of course, the British Classic Motor Car Show itself. Learn more about the Stowe British Invasion event schedule.
This favorite annual Stowe event has grown to become the largest All British Motorcar Show and Lifestyle Event in the Eastern United States. Typically between 600 and 650 British Motorcars from the USA and Canada participate.
To the sounds of British Invasion Music, fun and playfulness abound. Registrants, Guests and the General are encouraged and awarded for dressing in British Attire (there are "Incognito Judges" canvassing the grounds searching for those worthy of this great recognition!)  There's even a "Queen" who holds court and promotes the Ladies Hat Competition.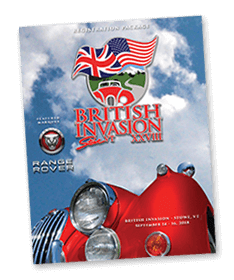 2018 Dates: September 14 – 16
British Invasion Admission:
Adult General Admission (2-day pass): $15
Adult General Admission (Sunday only): $10
Child General Admission (under age 12): Free
Parking proceeds benefit the American Cancer Society
British Invasion Car Show Hours:
9am to 5 pm Saturday; 9am to 3pm Sunday
---
"Invaders" — Welcome to Stowe; we look forward to hosting you.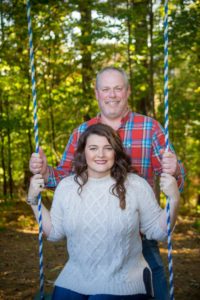 Stowe British Invasion Lodging
Call us to book your "Stowe Invasion" stay (802) 253-6282 or book online. Many guests book up to a year in advance, as Stowe is typically at a 97% occupancy rate during the British Invasion weekend.
Have dietary concerns? No worries. The Stone Hill Inn is AIP, Paleo, Gluten Free, Vegan, Vegetarian and Pescatarian diet friendly.
Did you know? Stone Hill Inn is a 2018 TripAdvisor Hall of Fame member, 2010-2018 Trip Advisor Certificate of Excellence recipient, and 2014 & 2012 Trip Advisor Travelers Choice Award. We're also named "Best Romantic Getaway in New England" by Yankee Magazine.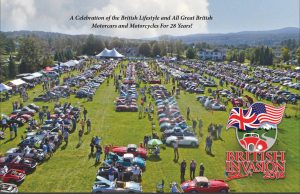 Photo Credit: British Invasion. British Invasion is a registered trademark of British Invasion, Inc. All rights reserved.
Tags: car show, september stowe event, Stowe, stowe british invasion, Vermont