57th Annual Antique and Classic Car Show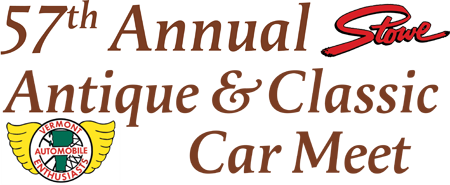 August 8-10, 2014
As a young lad in college I had a small picture of a 1964 Corvette convertible hanging on my dorm room wall, just above the army barracks bed that I had fortified with a piece of ¾" plywood to prevent the cushy 4" mattress from sagging.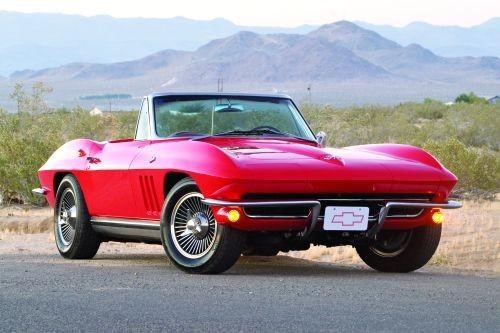 Corvettes during those hormone-driven days, especially romantic convertibles, often held my attention longer than polysci or english lit.  The 1964 Corvette was both luxurious and beyond cool.  It came with a standard three-speed manual transmission, a 327 engine, which when fuel injected generated 360 HP – and fuel mileage probably less than 20?
However, as I look back on Corvettes, I like the 1967 version best – the one pictured above.  In mid-March of 1965, Chevrolet's Mark IV big-block was first offered in the C2, displacing 396 cubic inches and rated at 425hp. For 1966, the thundering 427 was released in 390hp and 425hp varieties. In 1967, the 427 was offered with 390, 400 or 435hp.  (Feb 2010 Hemmings Motor News.)  You can only imagine the tasty fuel mileage from this rocket!
Alas, I never bought a corvette; only drove one once (1964 with the 327 engine).  Today I require much more practicality in my transportation (2008 used Honda Pilot), but if I can finish my Stone Hill Inn chores early, I might slip down to see what the corvettes look like in the Stowe, VT., 57th Annual Antique and Classic Car Show.  August 8-10.
After 56 years, this Stowe car show has gotten pretty good at capturing some of the most interesting Antique cars from all over the U.S. while making the show quite charming.  After a restorative night's sleep and healthy breakfast at our Stowe inn, you are ready for a full day of Stowe and the Antique car show!  Here's the line-up for the event (only cars 1989 and earlier may enter the judging):
Friday, August 8:
7 am to 6 pm – eats!  Food concessions.
8 am to 6 pm – vehicle registration
8 am to sunset – flea market open (non-automotive items not permitted – of course!!)
Saturday, August 9:
7 am to 6 pm – eats!  Food concessions.
8 am to 3:30 pm – vehicle registration
8 am to 5:00 pm – flea market open (non-automotive items not permitted – of course!!
10:30 Fashion show judging at Nichols field (costumes must be of the same era as the year of your vehicle – sort of!)
11:00 Hot Wheels racing.
1:00 pm – Senior class judging and youth judging
3:30 pm  Parade leaves the field on the parade route – past the review stand and down to Main street Stowe. 
7:00 pm  10 pm – Street dance in Stowe village. (We'll show you the back way into Stowe if you're dining at one of the local restaurants.)
Sunday, August 10:
7 am to 4 pm – eats!  Food concessions.
8 am to 4:00 pm – flea market and car corral
9:00 – technical judging begins
11:00 – valve cover racing
Early afternoon:  Awards ceremony; three awards per class
Well, I'm not sure if the 1967 Vette, pictured above, will be part of this year's Stowe car show.  But if so, that's where you will likely find me!!