Yesterday Montreal denizens, Michael and Sossi honored our Stowe bed and breakfast as their third stop on a one year tour (gratis!) of all Select Registry properties. They have a year to stay at as many locations as they want, each for one night – a Vacation of a Lifetime!!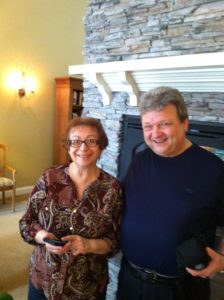 They are one of three couples chosen at random among those who either have opened a rewards account or have stayed at a Select Registry property during 2013. The more nights you stay during the year, the more chances you have of being selected.
Michael is a retired police officer from the Provincial police where after being an investigator he now is credit director (F&I) for the past 8 yrs in a major automobile dealership in Montreal. Sossi worked for almost 25 years in the travel industry; even owning and operating her own travel agency. An extraordinary program and it was such fun to be with them even if only for a day!