Winter Stowe Getaways: Snow, Food & Romance
Updated on January 4th, 2021
Create your own Winter Romantic Getaway!
Snow is here; time to enjoy Stowe's winter playground!  Have fun at what Stowe does best — snowshoeing, great food, sleigh riding, and a luxury room to which you can retreat and get warm in a double Jacuzzi tub next to a fireplace at the Stone Hill Inn! Stowe at Its Best!!!!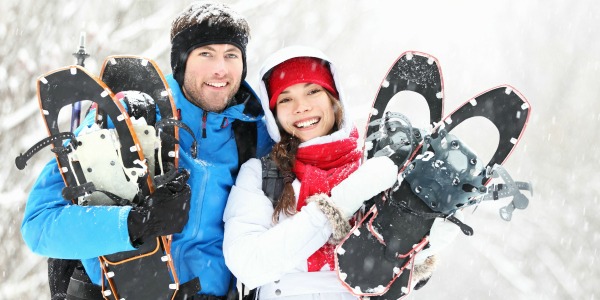 Snowshoe.  Perhaps for the first time?  A bit rusty?  No matter – there is a snowshoeing adventure for everyone!  Your expert backcountry guide – a native of this area who knows the most scenic trails – lets you decide where you want to go, how much ground you want to cover, and whether you want 1 or up to 2 hours of snowshoeing. Tours are scheduled during the late morning and early afternoon so that you can soak up the beauty and smell the fresh pine of unspoiled Vermont. Snowshoeing adventures must be booked directly with Umiak: Umiak.com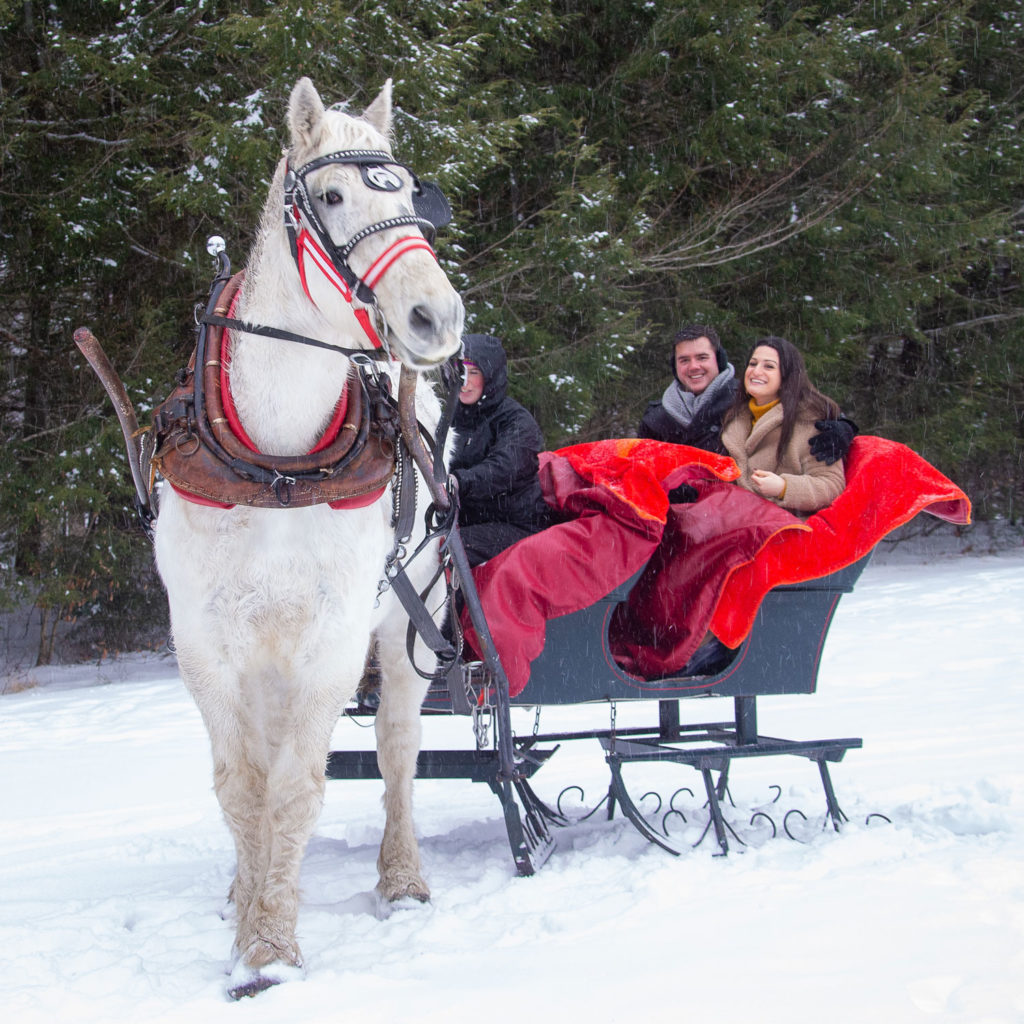 Sleigh ride. Just the two of you wrapped in several blankets while the up-front driver takes you into the Vermont woods along the west branch of the Little River in a horse-drawn sleigh for a beautiful 30-minute ride. Perfect for romantic Stowe getaways!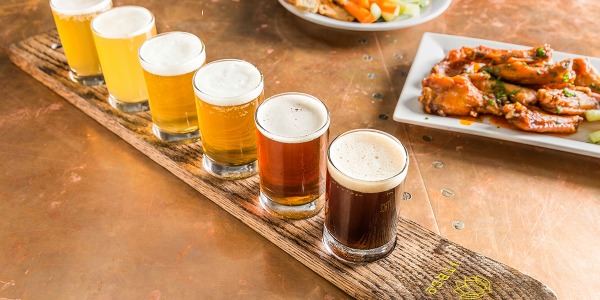 Dining. What is rapidly becoming Stowe's best casual restaurant – Ideltyme Brewing Company – will welcome you with a menu and staff selected by their new owner Michael Kloeti – the owner and chef of the celebrated, fine dining restaurant, Michael's on the Hill.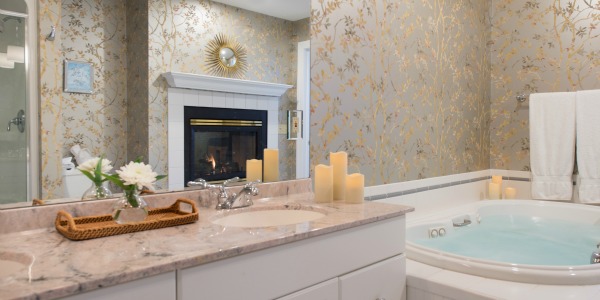 Relax. On your last day, add an extra 60-minutes for a late checkout.  Take a couple of trips on the Stone Hill toboggan, a short trip on our snowshoes, a walk in Weissner Woods, or maybe one last plunge in your fireside Jacuzzi.
We look forward to hosting you at our Stowe bed and breakfast.

If you've never sunken into a massive bathtub by a fireplace after a morning of snowshoeing and sledding (yes, on the property with all equipment supplied) then I highly recommend you do so at Stone Hill Inn.
My boyfriend and I recently stayed two nights at this beautiful inn nestled away in a private little woods. We did not leave the property the entire time because we wanted for nothing! The room was gorgeous. Hosts Todd and Kristie and staff member Tony went above and beyond to make sure we were comfortable – implementing safety protocols effectively, cooking delicious celiac-friendly breakfasts served in a snow globe dining room, and recommending a gluten-free pizza place that delivers. They have truly crafted a luxury yet neighborly experience. We loved this get-away and are looking forward to coming back to explore more of the area next season.
TripAdvisor Review, Guests from Cambridge, Massachusetts