Seeking Spectacular Fall Foliage?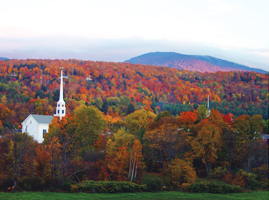 Best in the U.S = Stowe,  Vermont.
Stowe is #1 in the U.S. for Fall Foliage Viewing based on the feedback from members of the world's largest travel site, TripAdvisor.
The nights are getting cooler in Stowe; the leaves of our tallest Maple have begun to turn at the top.  Stay up to date on the foliage colors at gostowe.com/foliage (lists scenic drives and leaf color) and book your trip at Stone Hill Inn (the #1 ranked Inn/B&B in Stowe, Vermont) – you don't want to miss out on the best fall foliage in the country.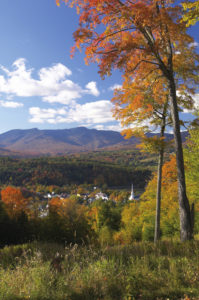 For over a hundred years people have traveled to Stowe to marvel at gorgeous mountain vistas and beautiful fall colors. Located in the majestic Green Mountains, our idyllic New England town boasts a 200-year-old village lined with quaint shops, cafes and restaurants where guests can unwind after a day of viewing vibrant leafy displays or taking advantage of Stowe's plethora of outdoor activities.
From early September through late October, visitors to Stowe can delight in the pure gold, orange and red hues of our fall foliage while enjoying many fun autumn events such as:
Lantern tours
The Farmer's Market
Concerts, performances & local theater
The 3nd Annual Vermont Fly Fishing Show
The British Invasion Car Show
21th Annual Oktoberfest
Restaurant Week (October 23 -29)
The Great Pumpkin & Ghost Festival
Fun Facts – Did you know?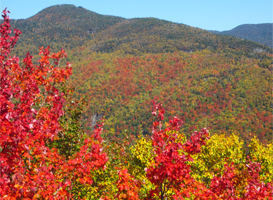 Leaves of the sugar maple, red maple, red oak, sweet gum, black gum and sourwood, typically turn hues of red. However, they can produce yellow leaves as well.
Stowe's first designated ski trail, the Bruce Trail, was cut by the CCC in 1933.  You can follow the Bruce Trail today to see the beginnings of this famous ski trail.  We can direct you at Stone Hill.
The first Nordic ski center in the U.S. began in 1968 at the Trapp Family Lodge in Stowe.
The Toll road is a wonderful way to see the foliage both as you drive up the mountain and when you stop at the Octagon Café with it's deck.  In 1937 a thousand-foot tow rope, powered by a Cadillac engine, was installed on the Toll road.
Leaves of birch, elm, poplar, redbud and hickory, always turn hues of gold & yellow.
Leaves of the Sumac tree produce a maroon color.
 Be overwhelmed by crisp fall air, the natural beauty of Stowe's stunning fall season that changes its colors and vibrancy every day, and the warmth of the Stone Hill Inn — soft, quiet, and undisturbed. 
During leaf season, we have very few vacancies. Make sure to book ahead-of time; many guests even book a year in advance!