Growing up as a Marylander, my exposure to Alpine skiing was limited to ABC's Wide World of Sports with Jim McKay.  Scarce, however, would be a New England childhood without first-hand exposure to Alpine skiing.  And the name they invariably associate with the best New England skiing would be Stowe.  Even Stone Hill Inn guests who have been neither to Stowe nor Vermont, clearly associate Stowe with what it is best known for, skiing.  They assume that Winter must be our busiest season.
This is the Stowe that we all know.
So, the vast majority of nearly a million visitors that come annually to Stowe come in the Winter.  Right?
Wrong!
This is the Stowe you didn't know.
Summer in Stowe, VT is by far the season that receives the most visitors!  Eh?  Why is that?
Southern New Englanders along with those from PA, NJ, and DC seeking relief from heat and humidity are impressed when a hot day in Stowe is only 89 degrees with much more moderate humidity.
For a town of only 5,000 permanent residents, it has over 50 restaurants and supports dozens of lodging establishments representing a wide degree of sophistication and price.
Stowe is a strong supporter of the Farm to Table culinary movement and guests often praise the freshness and taste of its food, both at Stone Hill and at the local restaurants.
As we mentioned in a previous blog, the Stowe area represents one of the most heralded centers for craft beer production in the U.S.
Unspoiled is the word often associated with Vermont and its 300,000 acres of state-owned forests. Stowe, by itself, has 53,000 acres of beautiful forests for enjoyment via the C.C. Putnam and Mt. Mansfield State Forests.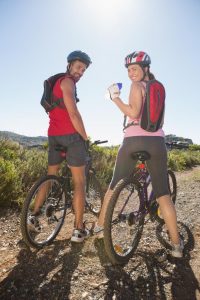 But most of all, the reason for Stowe's summer popularity is that it represents a summer full of fun things to do in Stowe, VT.  We are familiar with all of them and can make reservations for you before you ever arrive.  Some of these include:
Ballooning – a 45-minute ride gives you a spectacular view of Lake Champlain, the Adirondacks, and Stowe's nationally known ski area — mountains Mansfield and Spruce.
We're members of the Stowe Mountain Bike club and have access to maps and suggestions for how you can enjoy the nearly 70 miles of single-track mountain bike trails.  In the third annual Vermont Rider's Choice Awards, Stowe received three of the 11 awards including The Trail with The Most Flow.  Stone Hill Inn has hoses for bike cleaning and four garages to secure your bikes for you.
We're also members of the Green Mountain Club, keepers of the lauded Long Trail that runs the length of Vermont.  We can provide suggestions for easy, moderate, and more difficult hikes/climbs, and we have maps to help you explore and get the most from your experience.  If you like, we can arrange for local guides – experts in the area and techniques – to accompany you.
White water canoeing. Try your hand at a guided Upper Gorge River Challenge in a canoe with Class I and II rapids.  It's a six-mile trip through stunning scenery and rock formations on the Winooski River.
Kayaking and Canoeing by yourself. Most of the local rivers are very tranquil yet offer beautiful views and a sense of peace for two or more hours.  Book directly through Umiak Outdoor Outfitters or Vermont Canoe and Kayak.
Yes, even in the summer – it's on wheels!  We love the Eden Mills location and its natural beauty, and you'll love the dogs and this memory-laden adventure.
Just 15 minutes away from us and you will spend 2.5 to 3.0 hours on eight different zip lines, two bridges, and two easy rappels!  Complete fun for all ages.
Well, you probably figured there would be golf in Stowe, and there is via the Stowe CC (public; a mile from Stone Hill – 6300 yards) and the Vermont CC (about 20 minutes away, longer and tougher).  We list them because we like to play golf ourselves!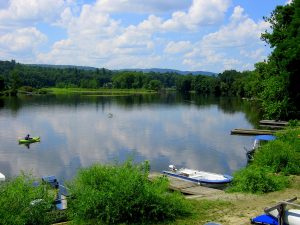 So that's a sample of The Stowe You Didn't Know and all the things to do in Stowe, VT during the summer that has made it more popular than Winter in Stowe! 
We look forward to hosting you!